SplashWire™ Hydrophilic Steerable Guide Wire
SplashWire™ Hydrophilic Steerable Guide Wire
KINK RESISTANCE, COMPATIBILITY, LUBRICITY
Kink-resistant nitinol core allows wire to maintain shape while navigating tortuous anatomy.
Compatible with other devices for excellent trackability through challenging vasculature.
Lubricious surface reduces friction and insertion forces when crossing complex lesions.
TRAVERSE DIFFICULT LESIONS
Achieve Successful Clinical Outcomes.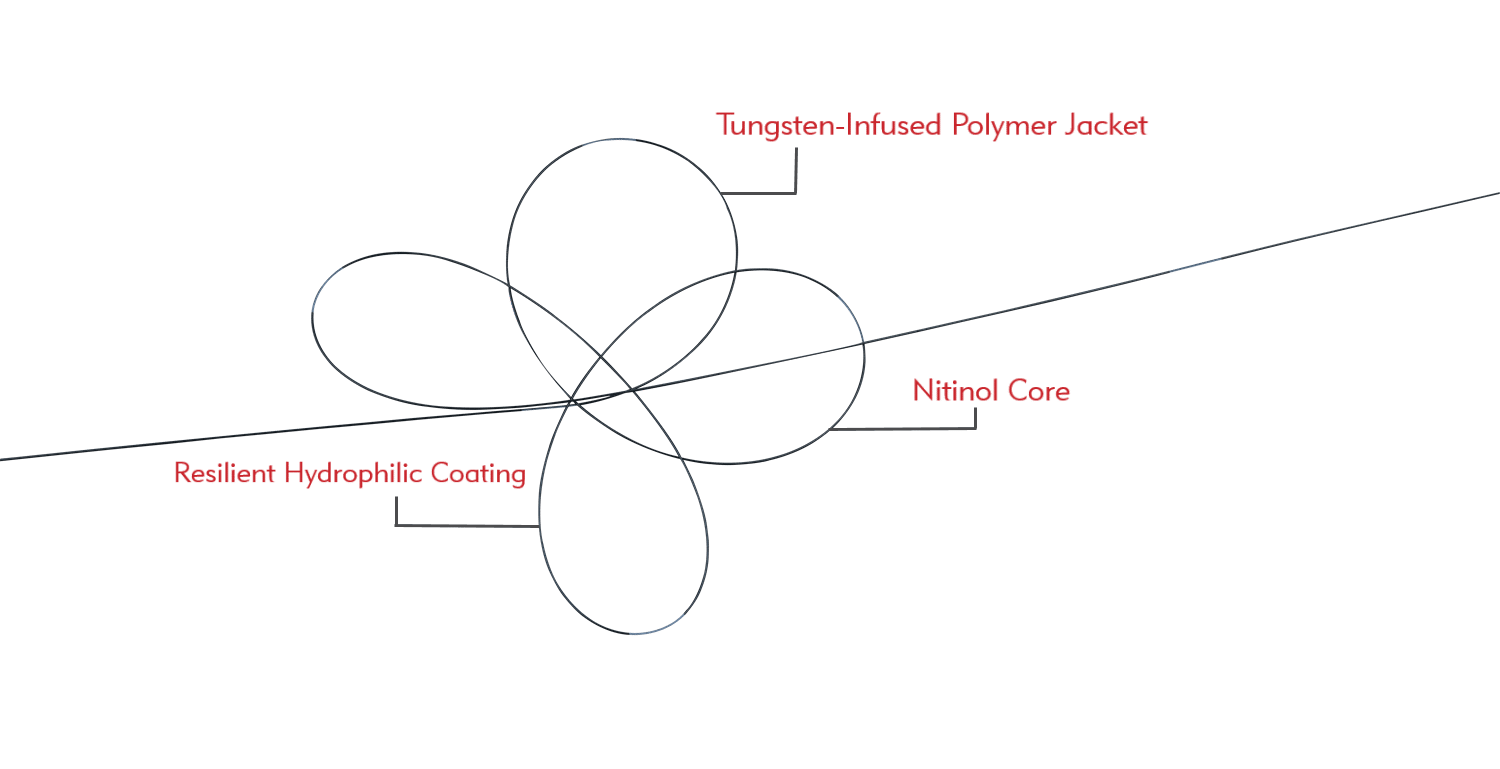 Resilient Hydrophilic Coating
Provides a constant fluid layer on wire surface for enhanced lesion crossability.
Nitinol Core
Delivers true 1:1 torque response for smooth navigation in tortuous vessels.1
Tungsten-Infused Polymer Jacket
Combined with the nitinol core wire, boosts visualization under fluoroscopy for accurate positioning.
TACKLE PROCEDURAL CHALLENGES WITH SPLASHWIRE OPTIONS
ANGLED AND STRAIGHT TIPS
For added flexibility when you need it.
STIFF CONFIGURATION
When more support and pushability are desired.
SEADRAGON2™ TORQUE DEVICE
May be used to enhance manipulation of the guide wire tip.
TRANSRADIAL HYDROPHILIC CHOICES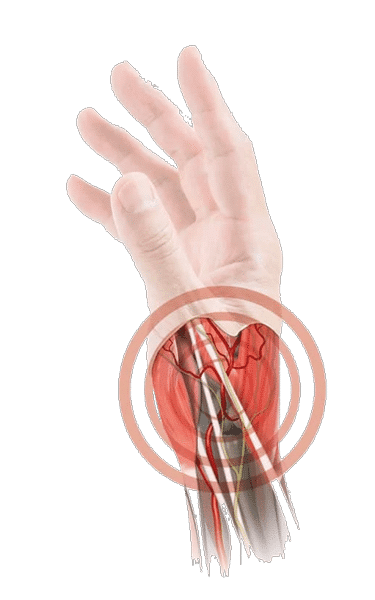 Angled and Straight –
220 cm wire lengths when utilizing radial access
SMALL VESSEL CANNULATION

0.018" & 0.025" diameter wires –
Shaft support & torqueability for optimizing small vessel cannulation
OPTIMUM LUBRICITY FOR IMPROVED ENDURANCE1
The Merit SplashWire's resilient hydrated gel coating delivers constant lubricity that's superior to the market-leading hydrophilic guide wire.

REFERENCES:
1. Test data on file.
Discover more about the Merit SplashWire by reviewing the brochures and Instructions for Use.
How to Read the Merit SplashWire Part Number
MSWSTDA35260EX (Part Number Example)
MSW
STD
A
35
260
EX
Merit Splash Wire
Standard Body Stiffness
Angled Tip Shape
0.35″ Outer Diameter
260 cm Total Length
Exchange Length
Box Quantity: 5
| Catalog Number | Expanded Family Name1 | Diameter (O.D.) | Length | Tip Shape | Configuration | Flexible Tip Length | Core Abbreviation | Surface Coating | Sterilization | Latex Free | Shipping Box Qty |
| --- | --- | --- | --- | --- | --- | --- | --- | --- | --- | --- | --- |
| MSWSTDA18150 | SplashWire™ Hydrophilic Guide Wire | 0.018" (0.46 mm) | 150 cm (59") | Angled Tip | Standard | 3 cm | F | Hydrophilic Coated | ETO | Yes | 5 |
| MSWSTDA18180 | SplashWire™ Hydrophilic Guide Wire | 0.018" (0.46 mm) | 180 cm (71") | Angled Tip | Standard | 3 cm | F | Hydrophilic Coated | ETO | Yes | 5 |
| MSWSTDA18260EX | SplashWire™ Hydrophilic Guide Wire | 0.018" (0.46 mm) | 260 cm (102") | Angled Tip | Standard Exchange | 3 cm | F | Hydrophilic Coated | ETO | Yes | 5 |
| MSWSTDA1880 | SplashWire™ Hydrophilic Guide Wire | 0.018" (0.46 mm) | 80 cm (31.5") | Angled Tip | Standard | 3 cm | F | Hydrophilic Coated | ETO | Yes | 5 |
| MSWSTDA25150 | SplashWire™ Hydrophilic Guide Wire | 0.025" (0.64 mm) | 150 cm (59") | Angled Tip | Standard | 3 cm | F | Hydrophilic Coated | ETO | Yes | 5 |
| MSWSTDA25180 | SplashWire™ Hydrophilic Guide Wire | 0.025" (0.64 mm) | 180 cm (71") | Angled Tip | Standard | 3 cm | F | Hydrophilic Coated | ETO | Yes | 5 |
| MSWSTDA25260EX | SplashWire™ Hydrophilic Guide Wire | 0.025" (0.64 mm) | 260 cm (102") | Angled Tip | Standard Exchange | 3 cm | F | Hydrophilic Coated | ETO | Yes | 5 |
| MSWSTDA35150 | SplashWire™ Hydrophilic Guide Wire | 0.035" (0.89 mm) | 150 cm (59") | Angled Tip | Standard | 3 cm | F | Hydrophilic Coated | ETO | Yes | 5 |
| MSWSTDA35180 | SplashWire™ Hydrophilic Guide Wire | 0.035" (0.89 mm) | 180 cm (71") | Angled Tip | Standard | 3 cm | F | Hydrophilic Coated | ETO | Yes | 5 |
| MSWSTDA35220 | SplashWire™ Hydrophilic Guide Wire | 0.035" (0.89 mm) | 220 cm (87") | Angled Tip | Standard | 3 cm | F | Hydrophilic Coated | ETO | Yes | 5 |
| MSWSTDA35260EX | SplashWire™ Hydrophilic Guide Wire | 0.035" (0.89 mm) | 260 cm (102") | Angled Tip | Standard Exchange | 3 cm | F | Hydrophilic Coated | ETO | Yes | 5 |
| MSWSTDA3580 | SplashWire™ Hydrophilic Guide Wire | 0.035" (0.89 mm) | 80 cm (31.5") | Angled Tip | Standard | 3 cm | F | Hydrophilic Coated | ETO | Yes | 5 |
| MSWSTDA38120 | SplashWire™ Hydrophilic Guide Wire | 0.038" (0.97 mm) | 120 cm (47") | Angled Tip | Standard | 3 cm | F | Hydrophilic Coated | ETO | Yes | 5 |
| MSWSTDA38150 | SplashWire™ Hydrophilic Guide Wire | 0.038" (0.97 mm) | 150 cm (59") | Angled Tip | Standard | 3 cm | F | Hydrophilic Coated | ETO | Yes | 5 |
| MSWSTDA38180 | SplashWire™ Hydrophilic Guide Wire | 0.038" (0.97 mm) | 180 cm (71") | Angled Tip | Standard | 3 cm | F | Hydrophilic Coated | ETO | Yes | 5 |
| MSWSTDA38260EX | SplashWire™ Hydrophilic Guide Wire | 0.038" (0.97 mm) | 260 cm (102") | Angled Tip | Standard Exchange | 3 cm | F | Hydrophilic Coated | ETO | Yes | 5 |
| MSWSTDA3880 | SplashWire™ Hydrophilic Guide Wire | 0.038" (0.97 mm) | 80 cm (31.5") | Angled Tip | Standard | 3 cm | F | Hydrophilic Coated | ETO | Yes | 5 |
| MSWSTDS18150 | SplashWire™ Hydrophilic Guide Wire | 0.018" (0.46 mm) | 150 cm (59") | Straight Tip | Standard | 3 cm | F | Hydrophilic Coated | ETO | Yes | 5 |
| MSWSTDS18180 | SplashWire™ Hydrophilic Guide Wire | 0.018" (0.46 mm) | 180 cm (71") | Straight Tip | Standard | 3 cm | F | Hydrophilic Coated | ETO | Yes | 5 |
| MSWSTDS18260EX | SplashWire™ Hydrophilic Guide Wire | 0.018" (0.46 mm) | 260 cm (102") | Straight Tip | Standard Exchange | 3 cm | F | Hydrophilic Coated | ETO | Yes | 5 |
| MSWSTDS25150 | SplashWire™ Hydrophilic Guide Wire | 0.025" (0.64 mm) | 150 cm (59") | Straight Tip | Standard | 3 cm | F | Hydrophilic Coated | ETO | Yes | 5 |
| MSWSTDS25180 | SplashWire™ Hydrophilic Guide Wire | 0.025" (0.64 mm) | 180 cm (71") | Straight Tip | Standard | 3 cm | F | Hydrophilic Coated | ETO | Yes | 5 |
| MSWSTDS25260EX | SplashWire™ Hydrophilic Guide Wire | 0.025" (0.64 mm) | 260 cm (102") | Straight Tip | Standard Exchange | 3 cm | F | Hydrophilic Coated | ETO | Yes | 5 |
| MSWSTDS35110 | SplashWire™ Hydrophilic Guide Wire | 0.035" (0.89 mm) | 110 cm (43.3") | Straight Tip | Standard | 3 cm | F | Hydrophilic Coated | ETO | Yes | 5 |
| MSWSTDS35150 | SplashWire™ Hydrophilic Guide Wire | 0.035" (0.89 mm) | 150 cm (59") | Straight Tip | Standard | 3 cm | F | Hydrophilic Coated | ETO | Yes | 5 |
| MSWSTDS35180 | SplashWire™ Hydrophilic Guide Wire | 0.035" (0.89 mm) | 180 cm (71") | Straight Tip | Standard | 3 cm | F | Hydrophilic Coated | ETO | Yes | 5 |
| MSWSTDS35220 | SplashWire™ Hydrophilic Guide Wire | 0.035" (0.89 mm) | 220 cm (87") | Straight Tip | Standard | 3 cm | F | Hydrophilic Coated | ETO | Yes | 5 |
| MSWSTDS35260EX | SplashWire™ Hydrophilic Guide Wire | 0.035" (0.89 mm) | 260 cm (102") | Straight Tip | Standard Exchange | 3 cm | F | Hydrophilic Coated | ETO | Yes | 5 |
| MSWSTDS3580 | SplashWire™ Hydrophilic Guide Wire | 0.035" (0.89 mm) | 80 cm (31.5") | Straight Tip | Standard | 3 cm | F | Hydrophilic Coated | ETO | Yes | 5 |
| MSWSTDS38150 | SplashWire™ Hydrophilic Guide Wire | 0.038" (0.97 mm) | 150 cm (59") | Straight Tip | Standard | 3 cm | F | Hydrophilic Coated | ETO | Yes | 5 |
| MSWSTDS38180 | SplashWire™ Hydrophilic Guide Wire | 0.038" (0.97 mm) | 180 cm (71") | Straight Tip | Standard | 3 cm | F | Hydrophilic Coated | ETO | Yes | 5 |
| MSWSTDS38260EX | SplashWire™ Hydrophilic Guide Wire | 0.038" (0.97 mm) | 260 cm (102") | Straight Tip | Standard Exchange | 3 cm | F | Hydrophilic Coated | ETO | Yes | 5 |
| MSWSTFA35150 | SplashWire™ Hydrophilic Guide Wire | 0.035" (0.89 mm) | 150 cm (59") | Angled Tip | Stiff | 3 cm | F | Hydrophilic Coated | ETO | Yes | 5 |
| MSWSTFA35180 | SplashWire™ Hydrophilic Guide Wire | 0.035" (0.89 mm) | 180 cm (71") | Angled Tip | Stiff | 3 cm | F | Hydrophilic Coated | ETO | Yes | 5 |
| MSWSTFA35220 | SplashWire™ Hydrophilic Guide Wire | 0.035" (0.89 mm) | 220 cm (87") | Angled Tip | Stiff | 3 cm | F | Hydrophilic Coated | ETO | Yes | 5 |
| MSWSTFA35260EX | SplashWire™ Hydrophilic Guide Wire | 0.035" (0.89 mm) | 260 cm (102") | Angled Tip | Stiff Exchange | 3 cm | F | Hydrophilic Coated | ETO | Yes | 5 |
| MSWSTFA3580 | SplashWire™ Hydrophilic Guide Wire | 0.035" (0.89 mm) | 80 cm (31.5") | Angled Tip | Stiff | 3 cm | F | Hydrophilic Coated | ETO | Yes | 5 |
| MSWSTFA38150 | SplashWire™ Hydrophilic Guide Wire | 0.038" (0.97 mm) | 150 cm (59") | Angled Tip | Stiff | 3 cm | F | Hydrophilic Coated | ETO | Yes | 5 |
| MSWSTFA38180 | SplashWire™ Hydrophilic Guide Wire | 0.038" (0.97 mm) | 180 cm (71") | Angled Tip | Stiff | 3 cm | F | Hydrophilic Coated | ETO | Yes | 5 |
| MSWSTFA3880 | SplashWire™ Hydrophilic Guide Wire | 0.038" (0.97 mm) | 80 cm (31.5") | Angled Tip | Stiff | 3 cm | F | Hydrophilic Coated | ETO | Yes | 5 |
| MSWSTFS35150 | SplashWire™ Hydrophilic Guide Wire | 0.035" (0.89 mm) | 150 cm (59") | Straight Tip | Stiff | 3 cm | F | Hydrophilic Coated | ETO | Yes | 5 |
| MSWSTFS35180 | SplashWire™ Hydrophilic Guide Wire | 0.035" (0.89 mm) | 180 cm (71") | Straight Tip | Stiff | 3 cm | F | Hydrophilic Coated | ETO | Yes | 5 |
| MSWSTFS35220 | SplashWire™ Hydrophilic Guide Wire | 0.035" (0.89 mm) | 220 cm (87") | Straight Tip | Stiff | 3 cm | F | Hydrophilic Coated | ETO | Yes | 5 |
| MSWSTFS35260EX | SplashWire™ Hydrophilic Guide Wire | 0.035" (0.89 mm) | 260 cm (102") | Straight Tip | Stiff Exchange | 3 cm | F | Hydrophilic Coated | ETO | Yes | 5 |
| MSWSTFS3580 | SplashWire™ Hydrophilic Guide Wire | 0.035" (0.89 mm) | 80 cm (31.5") | Straight Tip | Stiff | 3 cm | F | Hydrophilic Coated | ETO | Yes | 5 |
| MSWSTFS38150 | SplashWire™ Hydrophilic Guide Wire | 0.038" (0.97 mm) | 150 cm (59") | Straight Tip | Stiff | 3 cm | F | Hydrophilic Coated | ETO | Yes | 5 |
| MSWSTFS38180 | SplashWire™ Hydrophilic Guide Wire | 0.038" (0.97 mm) | 180 cm (71") | Straight Tip | Stiff | 3 cm | F | Hydrophilic Coated | ETO | Yes | 5 |