TRACKABILITY & CONFIDENCE
The newly improved Impress Uterine Artery Catheter is designed to catheterize even the most challenging uterine vasculature.
Features & Benefits
Tapered Tip

Tapered from a 5F to a 4F for improved placement when seeking vessel ostium.
Legato Hydrophilic Coating

Legato hydrophilic coating is designed to reduce friction for smoother navigation through tortuous anatomy.
Radiopaque Marker Band

Proprietary Shaft Material
For flexibility and torque without compromising steerability and kink-ability.
Catheter Hub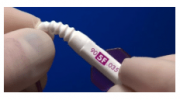 Minimizes kinking and enhances steering.
Documents
Discover more about the Impress® Hydrophilic Diagnostic UAC2™ Uterine Artery Catheter by reviewing the brochures and Instructions for Use.
Loading...