HeRO® Graft: Troubleshooting Thrombosis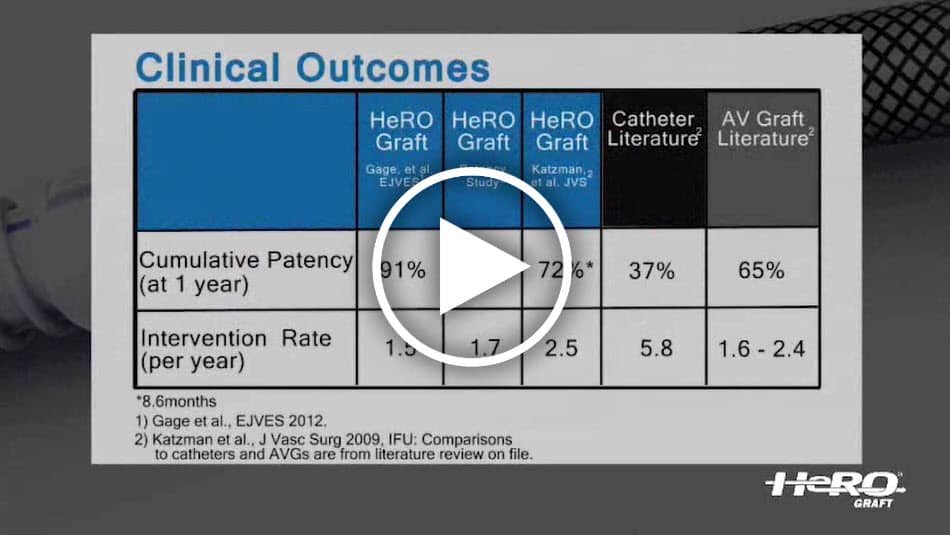 Watch Dr. John R. Ross perform a thrombectomy procedure of the HeRO Graft.
Thrombosis is the most common cause of vascular access dysfunction. Missed hemodialysis sessions significantly increase the number of thrombosis episodes in AVFs and AVGs. HeRO Graft thrombosis rates are comparable to conventional grafts and are treated with similar methods.
Test for coagulability disorders after repeated clotting episodes.
After a clotting episode, thoroughly image the inflow artery all the way to the shoulder and throughout the entire HeRO Graft, including the Venous Outflow Component tip, to identify the root causes.
Consider prescribing an anticoagulant in patients with repeated clotting episodes.
During dialysis treatment, closely monitor the patient for hypotensive events. A clinical evaluation of prescribed hypertensive medication may be necessary.
Avoid using fistula clamps after a dialysis session.