HeRO® Graft Care and Cannulation

A quick animation of how to implant the HeRO Graft and cannulate the ePTFE graft.
HeRO (Hemodialysis Reliable Outflow) Graft is a fully subcutaneous device implanted by a surgeon that provides continuous blood flow directly from an artery into the central venous system. HeRO Graft is FDA classified as a vascular graft prosthesis and is cannulated like a conventional upper arm graft. Follow KDOQI Guidelines for cannulation.
PRE-CANNULATION ASSESSMENT
LOOK for a uniform sized graft in the upper arm with NO irregularities or aneurysm formations.

LISTEN for low pitch, continuous diastolic & systolic flow. HeRO Graft bruit may be softer due to absence of a venous anastomosis.

FEEL the thrill. It will be strongest at the arterial anastomosis, but can be felt over the entire course of the graft. HeRO Graft should be easy to compress; however, note that HeRO Graft thrill may be less prominent due to the elimination of the venous anastomosis.
---
NEVER CANNULATE THE HERO GRAFT VENOUS OUTFLOW COMPONENT.
TO REDUCE POTENTIAL INFECTION, REMOVE BRIDGING CATHETER IMMEDIATELY POST SUCCESSFUL HERO GRAFT CANNULATION.
---
KDOQI GRAFT CANNULATION GUIDELINES:
Aseptic technique should be used for all cannulation
Grafts generally should not be cannulated for at least two weeks after placement
Swelling should have subsided so that palpation of the course of the graft can be performed
Rotation of cannulation sites is needed to avoid pseudoaneurysm formation
HERO GRAFT CONSIDERATIONS:
A light tourniquet may be used to slightly dilate the graft
Cannulate 3″ (8 cm) from the connector incision to avoid damage to the graft rings
Follow dialysis unit protocol for cannulation distance from the arterial anastomosis incision
If cannulating toward the anastomosis incision, stay at least the length of the fistula needle from the incision site
Avoid the use of fistula clamps for hemostasis
RECOGNIZING HERO GRAFT PATIENTS:
HeRO Graft patients will typically have 3 incision sites:
Venotomy site usually near the neck
Connector site usually near the shoulder
Arterial anastomosis site usually on the upper arm near the elbow or axilla
A HeRO Graft Patient Identification Card is also provided to patients following implant.
Care & Cannulation of a HeRO Graft used for Fistula or Graft Salvage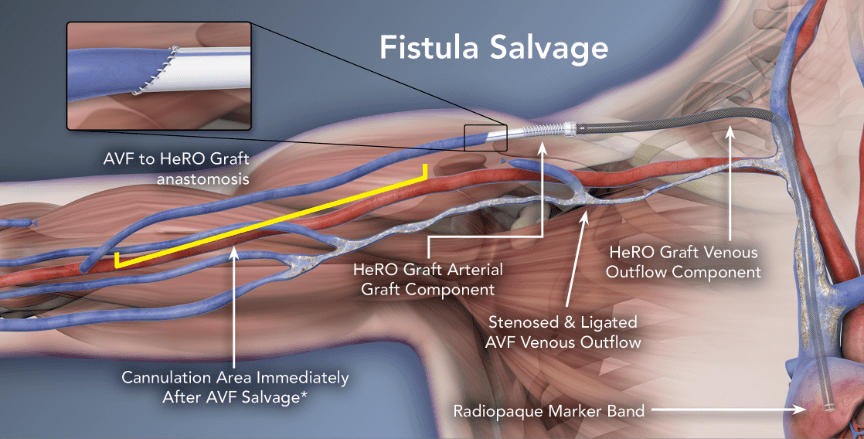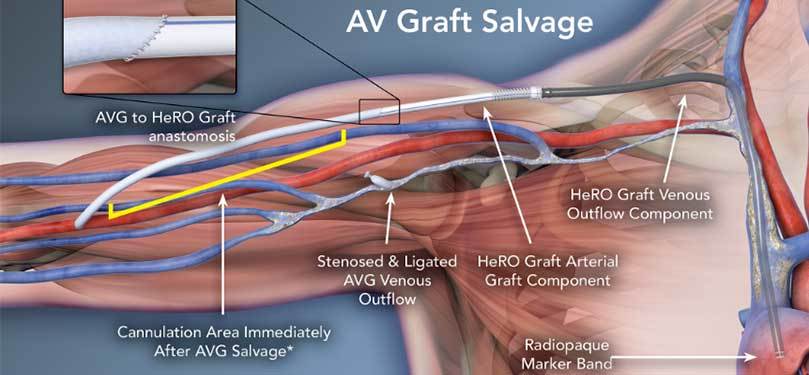 *If AVF is matured or AVG is incorporated. Follow your dialysis facility protocol for care and cannulation.