Learn More About the StabiliT® Vertebral Augmentation System
Features & Benefits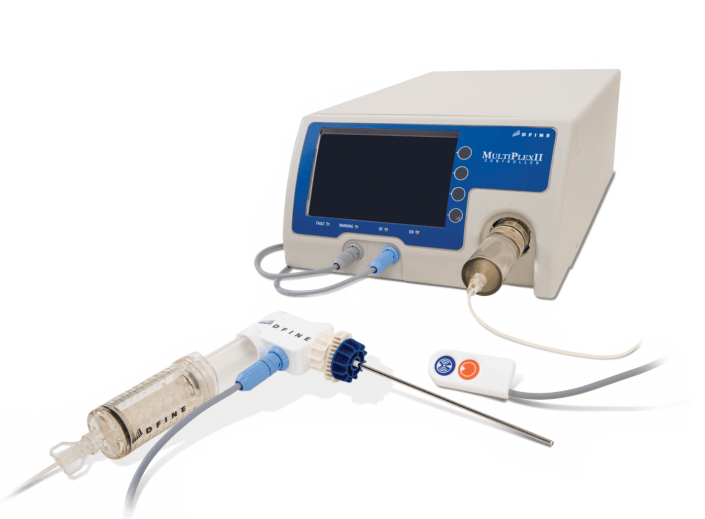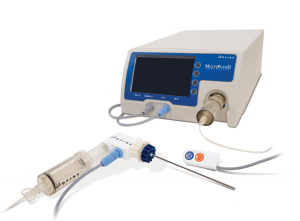 The StabiliT® System combines a targeted approach and ultra-high viscosity cement to treat pathological fractures and minimize extravasation in the vertebrae.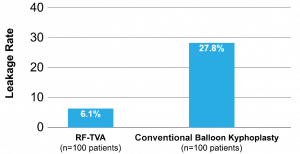 Minimizes Extravasation
Preferential cavity creation, controlled delivery, and consistent RF modulated ultra-high viscosity bone cement help minimize the potential for extravasation.1
Maximizes Interdigitation
The articulating PowerCURVE® Osteotome minimizes the destruction of intact cancellous bone and maximizes interdigitation for optimally filled and mechanically sound vertebrae.2
Reduces Exposure
The StabiliT® system allows users to stand up to 20 feet away from x-ray sources and reduce radiation exposure.
References
Pflugmacher R, Bornemann R, Koch EM, Randau TM, Muller-Broich J, Lehmann U, Weber O, Wirtz DC, Kabir K. Comparison of Clinical and Radiological Data in the Treatment of Patients with Osteoporotic Vertebral Compression Fractures using Radiofrequency Kyphoplasty or Balloon Kyphoplasty. Z Orthop Unfall. 2012 Feb;150(1):56-61 PubMed: 21993914
Dalton, B. E., Kohm AC, Miller LE, Block JE, Poser RD. Radiofrequency-targeted vertebral augmentation versus traditional balloon kyphoplasty: radiographic and morphologic outcomes of an ex vivo biomechanical pilot study. Clinical Interventions in Aging. 2012 7:525-31 PubMed: 23204845
Indications for Use
The StabiliT® Vertebral Augmentation System is intended for percutaneous delivery of StabiliT® ER2 Bone Cement. The StabiliT® ER2 Bone Cement is indicated for the treatment of pathological fractures of the vertebrae using a vertebroplasty or kyphoplasty procedure. Painful vertebral compression fractures may result from osteoporosis, benign lesions (hemangioma), and malignant lesions (metastatic cancers, myeloma).
Risks and Contraindications
As with most surgical procedures, there are risks associated with the StabiliT® procedure, including serious complications. For complete information regarding risks, contraindications, warnings, and precautions, please review the systems' Instruction for Use. For complete information regarding System related adverse events please see Instructions for Use.
Ordering Information
Catalog Number
Description
3610
MultiPlex® II Controller with Variable Viscosity
R3610
Daily Rental – MultiPlex II Controller with Variable Viscosity
W3610-1Y
MultiPlex II Controller Extended Warranty, 1 year
W3610-2Y
MultiPlex II Controller Extended Warranty, 2 year
KIT CONFIGURATIONS
2003-01 (Long)
3353-01 (Short)
StabiliT First Fracture Kit with PowerCURVE® Includes:

StabiliT Introducer (10G) with Diamond-tipped Stylet
StabiliT Introducer (10G) with Bevel-tipped Stylet
PowerCURVE Navigating Osteotome
VertecoR® StraightLine Osteotome
Locking Cement Delivery Cannula (11G) with Diamond-tipped Stylet
StabiliT ER2 Bone Cement and Saturate Mixing System (10 cc)
Activation Element
AE Cable
Hand Switch Cable
Hydraulic Syringe
Master Syringe

1666-01 (Long)
1436-01 (Short)
StabiliT Second Fracture Kit with PowerCURVE Includes:

StabiliT Introducer (10G) with Diamond-tipped Stylet
StabiliT Introducer (10G) with Bevel-tipped Stylet
PowerCURVE Navigating Osteotome
Locking Cement Delivery Cannula (11G) with Diamond-tipped Stylet
StabiliT ER2 Bone Cement and Saturate Mixing System (10 cc)
Activation Element
Hydraulic Syringe
Master Syringe

3506-01 (Long)
3512-01 (Short)
StabiliT Complete Fracture Kit with PowerCURVE Includes:

StabiliT Introducer (10G) with Diamond-tipped Stylet
PowerCURVE Navigating Osteotome
Locking Cement Delivery Cannula (11G) with Diamond-tipped Stylet
StabiliT ER2 Bone Cement and Saturate Mixing System (7 cc)
Activation Element
AE Cable
Hand Switch Cable
Hydraulic Syringe
Master Syringe

A LA CARTE COMPONENTS
Catalog Number
Description
1467
StabiliT Introducer with Bevel-tipped Stylet (Long)
1488
StabiliT Introducer with Bevel-tipped Stylet (Short)
1472
StabiliT Introducer with Diamond-tipped Stylet (Long)
1493
StabiliT Introducer with Diamond-tipped Stylet (Short)
1426
Locking Delivery Cannula with Diamond-tipped Stylet (Long)
0975
Locking Delivery Cannula with Diamond-tipped Stylet (Short)
1545
VertecoR StraightLine Osteotome (Long)
1011
VertecoR StraightLine Osteotome (Short)
PWR-2011L
PowerCURVE Navigating Osteotome (Long)
PWR-2011S
PowerCURVE Navigating Osteotome (Short)
2224
VertecoR Bone Drill
1688
StabiliT ER2 Bone Cement and Saturate Mixing System (10cc)
3366
StabiliT ER2 Bone Cement and Saturate Mixing System (7cc)
3427
Hydraulic Master Syringe Assembly (Master Syringe, Hydraulic Syringe)
1155
Activation Element (AE)
0860
AE Cable
0856
Hand Switch Cable
3119
Purge Assist