MINIMIZE BLOOD LOSS AND MANEUVER TWO SEPARATE DEVICES.
The Prelude Choice™ Hemostasis Valve Adapter is a unique dual valve accessory designed for use with the Prelude® Sheath portfolio. With two separate valve openings, the operator can track and control multiple devices while maintaining a secure seal that stops leaks.
Features & Benefits
Securely Fits on the Prelude Sheath Cap
Track Devices with Clearly Numbered Valves
Compatible with Multiple Sizes & Devices
---
LEARN MORE ABOUT THE PRELUDE CHOICE HEMOSTASIS VALVE ADAPTER.
When more than one interventional device is introduced through a single sheath, gaps are created at the valve opening, causing leaks. By fitting the Prelude Choice to the cap of a prelude sheath, leaks can be stopped while utilizing more than one interventional device.
*Leakage difference observed with and without Prelude Choice: 7F sheath, 2 devices, 200mmHg pressure, 15 minutes.
With Prelude Choice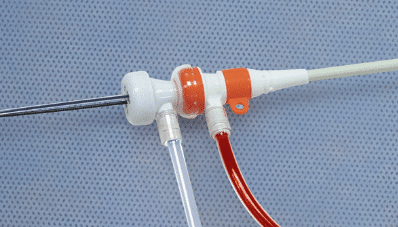 Without Prelude Choice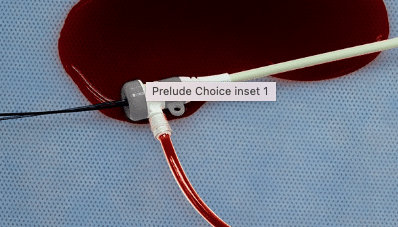 Documents
Discover more about the Prelude Choice™ Hemostasis Valve Adapter by reviewing the brochures and Instructions for Use.
Current IFUs
Current Brochures
Order Information
View All Details
| Catalog Number | Cap Color | Recommended Catheter Size | Recommended Catheter Size (mm) | Side Arm Tubing Material | Side Arm Tubing Length(in/cm) | Sterilization | Latex Free | Web Category | HCPCS Code | Shipping Box Qty |
| --- | --- | --- | --- | --- | --- | --- | --- | --- | --- | --- |
| PCHVA08 | White | 8F or Smaller | (2.7 mm) | Polyurethane | 6" (15 cm) | ETO | Yes | preludechoice | No Applicable Code | 10 |
| UHVA08 | White | 8F or Smaller | (2.7 mm) | Polyurethane | 6" (15 cm) | ETO | Yes | preludechoice | No Applicable Code | 10 |