Why Transradial for Peripheral Interventions?
"Aside from the benefits of earlier ambulation and fewer complications, transradial access procedures are preferred by patients."
Darren Klass, MD, PhD, Interventional Radiologist, Vancouver Coastal Health.
"The main reason I wanted to get started with the radial approach is the easy recovery and patient comfort. The patient can literally get off from the angio table and immediately start ambulating."
Christoph Binkert, MD, MBA, Interventional Radiologist, Winterthur, Switzerland
"I tell my colleagues that the radial approach will change their practices, affect their bottom lines, and is significantly better for patients. I have had a number patients thank me because their procedures were simpler and less complicated."
Michael Neuwirth, MD, Interventional Radiologist, Heart and Vascular Radiology, Carle, Urbana, Ill
How? Education + Products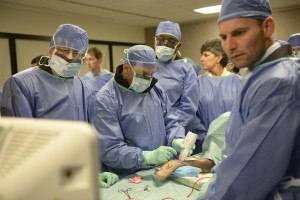 The ThinkRadial training course is an immersive day and a half long hands-on course that gives physicians the skills to immediately start practicing the radial approach. Courses are offered in both the US and Europe and are proctored by Dr. Darren Klass, a well-known Interventional Radiologist from Vancouver, Canada who performs 90% of his liver interventions and fibroid embolizations via the radial approach.
Learn more about the ThinkRadial course. 
Merit Medical supports IR's and vascular surgeons with device shapes and lengths specific to transradial for peripheral procedures. These products are designed to assist you at every step, from patient set-up through access, angiography, intervention, embolics and hemostasis.
Learn more about our complete radial for peripheral product offering.