Learn More About Impress® Diagnostic Peripheral Catheters
Features & Benefits
The Impress line of diagnostic peripheral catheters have been designed to deliver radiopaque media to selected sites in the vascular system. The tips are tapered to minimize vessel trauma, the accordion design hubs minimize kinking, and the proprietary braid pattern shafts provide maximum flexibility without compromising steerability. The hydrophilic Legato coating reduces friction for smoother navigation through tortuous anatomy. Available in a wide range of configurations and sizes.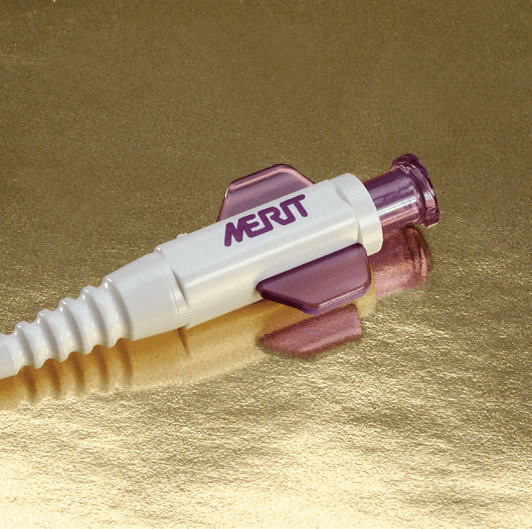 Hub
Accordion design insert molded hub and strain relief is made of soft polyurethane material which minimizes kinking and provides steering capability with wet gloved hands.
The internal transition provides smooth guide wire advancement.
Ergonomically designed wings enhance handling and control.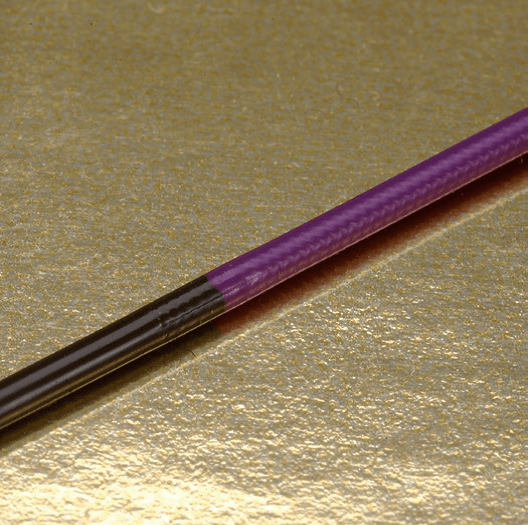 Proprietary Shaft Material
Maximizes flexibility while reducing kinking.
Provides excellent torsional torque.
Optimal surface smoothness Inner lumen provides excellent flow rates at the lowest possible pressure for adequate visibility with minimum contrast burden to the patient.
Braid pattern provides premiere flexibility without compromising steerability.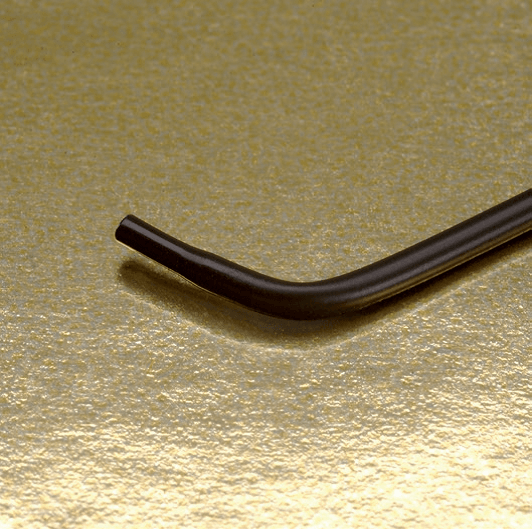 Tip
Tapered to seek ostium of vessel to be visualized.
Soft material designed to reduce kinking and vessel trauma.
Highly visible under fluoro.
High pull strength at shaft to tip transition.
Excellent tip memory and tip shape choices.
Ordering Information
| Catalog Number | Braided | French Size (F) | Length | Label Short Description | Catheter Shape | Internal Diameter | # Side Ports | Recommended Guide Wire | Tip Length | Marker Bands and Spacing | HCPCS Code |
| --- | --- | --- | --- | --- | --- | --- | --- | --- | --- | --- | --- |
| 410035B1 | Braided | 4F | 100 cm | BENT 1 | Bentson 1 | 0.040" (1.02 mm) | 0 Side Ports | 0.035" (0.89 mm) | | | No Applicable Code |
| 410035B2 | Braided | 4F | 100 cm | BENT 2 | Bentson 2 | 0.040" (1.02 mm) | 0 Side Ports | 0.035" (0.89 mm) | | | No Applicable Code |
| 410035BER | Braided | 4F | 100 cm | BERN | Berenstein | 0.040" (1.02 mm) | 0 Side Ports | 0.035" (0.89 mm) | | | No Applicable Code |
| 410035HH1 | Braided | 4F | 100 cm | HH 1 | Headhunter 1 | 0.040" (1.02 mm) | 0 Side Ports | 0.035" (0.89 mm) | | | No Applicable Code |
| 410035HH3 | Braided | 4F | 100 cm | HH 3 | Headhunter 3 | 0.040" (1.02 mm) | 0 Side Ports | 0.035" (0.89 mm) | | | No Applicable Code |
| 410035MANI | Braided | 4F | 100 cm | MANI | Mani | 0.040" (1.02 mm) | 0 Side Ports | 0.035" (0.89 mm) | | | No Applicable Code |
| 410035MC | Braided | 4F | 100 cm | MC | Modified Cerebral | 0.040" (1.02 mm) | 0 Side Ports | 0.035" (0.89 mm) | | | No Applicable Code |
| 410035MOT | Braided | 4F | 100 cm | MOT | Amir Motarjeme™ | 0.040" (1.02 mm) | 0 Side Ports | 0.035" (0.89 mm) | | | No Applicable Code |
| 410035MOTC | Braided | 4F | 100 cm | MOT C | Amir Motarjeme™ Cane | 0.040" (1.02 mm) | 0 Side Ports | 0.035" (0.89 mm) | | | No Applicable Code |
| 410035OSB1 | Braided | 4F | 100 cm | OSB 1 | Osborn | 0.040" (1.02 mm) | 0 Side Ports | 0.035" (0.89 mm) | | | No Applicable Code |
| 410035SIM1 | Braided | 4F | 100 cm | SIM 1 | Simmons 1 | 0.040" (1.02 mm) | 0 Side Ports | 0.035" (0.89 mm) | | | No Applicable Code |
| 410035SIM2 | Braided | 4F | 100 cm | SIM 2 | Simmons 2 | 0.040" (1.02 mm) | 0 Side Ports | 0.035" (0.89 mm) | | | No Applicable Code |
| 410035VER | Braided | 4F | 100 cm | VERT | Vertebral | 0.040" (1.02 mm) | 0 Side Ports | 0.035" (0.89 mm) | | | No Applicable Code |
| 410038B1 | Braided | 4F | 100 cm | BENT 1 | Bentson 1 | 0.040" (1.02 mm) | 0 Side Ports | 0.038" (0.97 mm) | | | No Applicable Code |
| 410038BER | Braided | 4F | 100 cm | BERN | Berenstein | 0.040" (1.02 mm) | 0 Side Ports | 0.038" (0.97 mm) | | | No Applicable Code |
| 410038CB1 | Braided | 4F | 100 cm | CB 1 | Cobra 1 | 0.040" (1.02 mm) | 0 Side Ports | 0.038" (0.97 mm) | | | No Applicable Code |
| 410038CB2 | Braided | 4F | 100 cm | CB 2 | Cobra 2 | 0.040" (1.02 mm) | 0 Side Ports | 0.038" (0.97 mm) | | | No Applicable Code |
| 410038HH1 | Braided | 4F | 100 cm | HH 1 | Headhunter 1 | 0.040" (1.02 mm) | 0 Side Ports | 0.038" (0.97 mm) | | | No Applicable Code |
| 410038HH3 | Braided | 4F | 100 cm | HH 3 | Headhunter 3 | 0.040" (1.02 mm) | 0 Side Ports | 0.038" (0.97 mm) | | | No Applicable Code |
| 410038HS | Braided | 4F | 100 cm | HS 1 | Hockey Stick | 0.040" (1.02 mm) | 0 Side Ports | 0.038" (0.97 mm) | 4.5 cm | | No Applicable Code |
| 410038MANI | Braided | 4F | 100 cm | MANI | Mani | 0.040" (1.02 mm) | 0 Side Ports | 0.038" (0.97 mm) | | | No Applicable Code |
| 410038MC | Braided | 4F | 100 cm | MC | Modified Cerebral | 0.040" (1.02 mm) | 0 Side Ports | 0.038" (0.97 mm) | | | No Applicable Code |
| 410038MPA1 | Braided | 4F | 100 cm | MP A1 | Multipurpose A1 | 0.040" (1.02 mm) | 0 Side Ports | 0.038" (0.97 mm) | | | No Applicable Code |
| 410038N1 | Braided | 4F | 100 cm | NEWT 1 | Newton 1 | 0.040" (1.02 mm) | 0 Side Ports | 0.038" (0.97 mm) | | | No Applicable Code |
| 410038N2 | Braided | 4F | 100 cm | NEWT 2 | Newton 2 | 0.040" (1.02 mm) | 0 Side Ports | 0.038" (0.97 mm) | | | No Applicable Code |
| 410038N3 | Braided | 4F | 100 cm | NEWT 3 | Newton 3 | 0.040" (1.02 mm) | 0 Side Ports | 0.038" (0.97 mm) | | | No Applicable Code |
| 410038N4 | Braided | 4F | 100 cm | NEWT 4 | Newton 4 | 0.040" (1.02 mm) | 0 Side Ports | 0.038" (0.97 mm) | | | No Applicable Code |
| 410038SIM1 | Braided | 4F | 100 cm | SIM 1 | Simmons 1 | 0.040" (1.02 mm) | 0 Side Ports | 0.038" (0.97 mm) | | | No Applicable Code |
| 410038SIM2 | Braided | 4F | 100 cm | SIM 2 | Simmons 2 | 0.040" (1.02 mm) | 0 Side Ports | 0.038" (0.97 mm) | | | No Applicable Code |
| 410038VER | Braided | 4F | 100 cm | VERT | Vertebral | 0.040" (1.02 mm) | 0 Side Ports | 0.038" (0.97 mm) | | | No Applicable Code |
| 41103510PIG-NB | Non-Braided | 4F | 110 cm | PIG | Pigtail Flush | 0.040" (1.02 mm) | 10 Side Ports | 0.035" (0.89 mm) | | | No Applicable Code |
| 411035STS | Braided | 4F | 110 cm | STR | Straight Selective | 0.040" (1.02 mm) | 0 Side Ports | 0.035" (0.89 mm) | | | No Applicable Code |
| 411038RADIM | Braided | 4F | 110 cm | RADIAL IM | Radial IM | 0.040" (1.02 mm) | 0 Side Ports | 0.038" (0.97 mm) | | | |
| 411038STS | Braided | 4F | 110 cm | STR | Straight Selective | 0.040" (1.02 mm) | 0 Side Ports | 0.038" (0.97 mm) | | | No Applicable Code |
| 412535HH1 | Braided | 4F | 125 cm | HH 1 | Headhunter 1 | 0.040" (1.02 mm) | 0 Side Ports | 0.035" (0.89 mm) | | | No Applicable Code |
| 412535VER | Braided | 4F | 125 cm | VERT | Vertebral | 0.040" (1.02 mm) | 0 Side Ports | 0.035" (0.89 mm) | | | No Applicable Code |
| 412538BER | Braided | 4F | 125 cm | BERN | Berenstein | 0.040" (1.02 mm) | 0 Side Ports | 0.038" (0.97 mm) | | | No Applicable Code |
| 412538MPA1 | Braided | 4F | 125 cm | MP A1 | Multipurpose A1 | 0.040" (1.02 mm) | 0 Side Ports | 0.038" (0.97 mm) | | | No Applicable Code |
| 4303510PIG-NB | Non-Braided | 4F | 30 cm | PIG | Pigtail Flush | 0.040" (1.02 mm) | 10 Side Ports | 0.035" (0.89 mm) | | | No Applicable Code |
| 43035BER | Braided | 4F | 30 cm | BERN | Berenstein | 0.040" (1.02 mm) | 0 Side Ports | 0.035" (0.89 mm) | | | No Applicable Code |
| 43035KA2 | Braided | 4F | 30 cm | KA 2 | KA2 | 0.040" (1.02 mm) | 0 Side Ports | 0.035" (0.89 mm) | | | No Applicable Code |
| 43035MODCB1 | Braided | 4F | 30 cm | MOD CB 1 | Modified Cobra 1 | 0.040" (1.02 mm) | 0 Side Ports | 0.035" (0.89 mm) | | | No Applicable Code |
| 43035RIM | Braided | 4F | 30 cm | RIM | RIM | 0.040" (1.02 mm) | 0 Side Ports | 0.035" (0.89 mm) | | | No Applicable Code |
| 43035STR | Braided | 4F | 30 cm | STR | Straight Selective | 0.040" (1.02 mm) | 0 Side Ports | 0.035" (0.89 mm) | | | No Applicable Code |
| 44035RIM | Braided | 4F | 40 cm | RIM | RIM | 0.040" (1.02 mm) | 0 Side Ports | 0.035" (0.89 mm) | | | |
| 44035STS | Braided | 4F | 40 cm | STS | Straight Selective | 0.040" (1.02 mm) | 0 Side Ports | 0.035" (0.89 mm) | | | |
| 44038KA2 | Braided | 4F | 40 cm | KA 2 | KA2 | 0.040" (1.02 mm) | 0 Side Ports | 0.038" (0.97 mm) | | | No Applicable Code |
| 44038MW2 | Braided | 4F | 40 cm | MW 2 | MW2 | 0.040" (1.02 mm) | 0 Side Ports | 0.038" (0.97 mm) | | | No Applicable Code |
| 44038STS | Braided | 4F | 40 cm | STS | Straight Selective | 0.040" (1.02 mm) | 0 Side Ports | 0.038" (0.97 mm) | | | |
| 4653510PIG-NB | Non-Braided | 4F | 65 cm | PIG | Pigtail Flush | 0.040" (1.02 mm) | 10 Side Ports | 0.035" (0.89 mm) | | | No Applicable Code |
| 4653510STF-NB | Non-Braided | 4F | 65 cm | STR | Straight Flush | 0.040" (1.02 mm) | 10 Side Ports | 0.035" (0.89 mm) | | | No Applicable Code |
| 4653510UBF-NB | Non-Braided | 4F | 65 cm | UBF | Ultra Bolus Flush | 0.040" (1.02 mm) | 10 Side Ports | 0.035" (0.89 mm) | | | No Applicable Code |
| 465352CB1 | Braided | 4F | 65 cm | CB 1 | Cobra 1 | 0.040" (1.02 mm) | 2 Side Ports | 0.035" (0.89 mm) | | | No Applicable Code |
| 465352CB2 | Braided | 4F | 65 cm | CB 2 | Cobra 2 | 0.040" (1.02 mm) | 2 Side Ports | 0.035" (0.89 mm) | | | No Applicable Code |
| 465352HK0-8 | Braided | 4F | 65 cm | HK 0.8 | Hook 0.8 | 0.040" (1.02 mm) | 2 Side Ports | 0.035" (0.89 mm) | | | No Applicable Code |
| 465352HK1-0 | Braided | 4F | 65 cm | HK 1.0 | Hook 1.0 | 0.040" (1.02 mm) | 2 Side Ports | 0.035" (0.89 mm) | | | No Applicable Code |
| 465352RC | Braided | 4F | 65 cm | RDC | Renal Double Curve | 0.040" (1.02 mm) | 2 Side Ports | 0.035" (0.89 mm) | | | No Applicable Code |
| 465352SH0-8 | Braided | 4F | 65 cm | SH 0.8 | Shepherd Hook 0.8 | 0.040" (1.02 mm) | 2 Side Ports | 0.035" (0.89 mm) | | | No Applicable Code |
| 465352SH1-0 | Braided | 4F | 65 cm | SH 1.0 | Shepherd Hook 1.0 | 0.040" (1.02 mm) | 2 Side Ports | 0.035" (0.89 mm) | | | No Applicable Code |
| 465354RBI | Braided | 4F | 65 cm | RBI | RBI | 0.040" (1.02 mm) | 4 Side Ports | 0.035" (0.89 mm) | | | No Applicable Code |
| 465356MHK-NB | Non-Braided | 4F | 65 cm | MOD HOOK | Modified Hook Flush | 0.040" (1.02 mm) | 6 Side Ports | 0.035" (0.89 mm) | | | No Applicable Code |
| 465356SHP-NB | Non-Braided | 4F | 65 cm | SH FL | Shepherd Flush | 0.040" (1.02 mm) | 6 Side Ports | 0.035" (0.89 mm) | | | No Applicable Code |
| 46535B1 | Braided | 4F | 65 cm | BENT 1 | Bentson 1 | 0.040" (1.02 mm) | 0 Side Ports | 0.035" (0.89 mm) | | | No Applicable Code |
| 46535BER | Braided | 4F | 65 cm | BERN | Berenstein | 0.040" (1.02 mm) | 0 Side Ports | 0.035" (0.89 mm) | | | No Applicable Code |
| 46535CB2 | Braided | 4F | 65 cm | CB 2 | Cobra 2 | 0.040" (1.02 mm) | 0 Side Ports | 0.035" (0.89 mm) | | | No Applicable Code |
| 46535MOT | Braided | 4F | 65 cm | MOT | Amir Motarjeme™ | 0.040" (1.02 mm) | 0 Side Ports | 0.035" (0.89 mm) | | | No Applicable Code |
| 46535MOTC | Braided | 4F | 65 cm | MOT C | Amir Motarjeme™ Cane | 0.040" (1.02 mm) | 0 Side Ports | 0.035" (0.89 mm) | | | No Applicable Code |
| 46535RC | Braided | 4F | 65 cm | RDC | Renal Double Curve | 0.040" (1.02 mm) | 0 Side Ports | 0.035" (0.89 mm) | | | No Applicable Code |
| 46535RIM | Braided | 4F | 65 cm | RIM | RIM | 0.040" (1.02 mm) | 0 Side Ports | 0.035" (0.89 mm) | | | No Applicable Code |
| 46535SIM1 | Braided | 4F | 65 cm | SIM 1 | Simmons 1 | 0.040" (1.02 mm) | 0 Side Ports | 0.035" (0.89 mm) | | | No Applicable Code |
| 4653810MUBF-NB | Non-Braided | 4F | 65 cm | MOD UBF | Modified Bolus Flush | 0.040" (1.02 mm) | 10 Side Ports | 0.038" (0.97 mm) | | | No Applicable Code |
| 465382CB1 | Braided | 4F | 65 cm | CB 1 | Cobra 1 | 0.040" (1.02 mm) | 2 Side Ports | 0.038" (0.97 mm) | | | No Applicable Code |
| 465382CB2 | Braided | 4F | 65 cm | CB 2 | Cobra 2 | 0.040" (1.02 mm) | 2 Side Ports | 0.038" (0.97 mm) | | | No Applicable Code |
| 46538BER | Braided | 4F | 65 cm | BERN | Berenstein | 0.040" (1.02 mm) | 0 Side Ports | 0.038" (0.97 mm) | | | No Applicable Code |
| 46538CB1 | Braided | 4F | 65 cm | CB 1 | Cobra 1 | 0.040" (1.02 mm) | 0 Side Ports | 0.038" (0.97 mm) | | | No Applicable Code |
| 46538CB2 | Braided | 4F | 65 cm | CB 2 | Cobra 2 | 0.040" (1.02 mm) | 0 Side Ports | 0.038" (0.97 mm) | | | No Applicable Code |
| 46538KA2 | Braided | 4F | 65 cm | KA 2 | KA2 | 0.040" (1.02 mm) | 0 Side Ports | 0.038" (0.97 mm) | | | No Applicable Code |
| 46538SIM1 | Braided | 4F | 65 cm | SIM 1 | Simmons 1 | 0.040" (1.02 mm) | 0 Side Ports | 0.038" (0.97 mm) | | | No Applicable Code |
| 46538SIM2 | Braided | 4F | 65 cm | SIM 2 | Simmons 2 | 0.040" (1.02 mm) | 0 Side Ports | 0.038" (0.97 mm) | | | No Applicable Code |
| 46538STS | Braided | 4F | 65 cm | STS | Straight Selective | 0.040" (1.02 mm) | 0 Side Ports | 0.038" (0.97 mm) | | | No Applicable Code |
| 46538VER | Braided | 4F | 65 cm | VERT | Vertebral | 0.040" (1.02 mm) | 0 Side Ports | 0.038" (0.97 mm) | | | No Applicable Code |
| 48035MHK1 | Braided | 4F | 80 cm | M HK 1 | Modified Hook 1 | 0.040" (1.02 mm) | 0 Side Ports | 0.035" (0.89 mm) | | | No Applicable Code |
| 48035MHK2 | Braided | 4F | 80 cm | M HK 2 | Modified Hook 2 | 0.040" (1.02 mm) | 0 Side Ports | 0.035" (0.89 mm) | | | No Applicable Code |
| 48035MHK3 | Braided | 4F | 80 cm | M HK 3 | Modified Hook 3 | 0.040" (1.02 mm) | 0 Side Ports | 0.035" (0.89 mm) | | | No Applicable Code |
| 48035MODS | Braided | 4F | 80 cm | M SIM | Modified Simmons | 0.040" (1.02 mm) | 0 Side Ports | 0.035" (0.89 mm) | | | No Applicable Code |
| 48038MIK | Braided | 4F | 80 cm | MIKAL | Mikaelsson | 0.040" (1.02 mm) | 0 Side Ports | 0.038" (0.97 mm) | | | No Applicable Code |
| 48038MODS | Braided | 4F | 80 cm | M SIM | Modified Simmons | 0.040" (1.02 mm) | 0 Side Ports | 0.038" (0.97 mm) | | | No Applicable Code |
| 48038RE | Braided | 4F | 80 cm | REUT | Reuter | 0.040" (1.02 mm) | 0 Side Ports | 0.038" (0.97 mm) | | | No Applicable Code |
| 4903510PIG-NB | Non-Braided | 4F | 90 cm | PIG | Pigtail Flush | 0.040" (1.02 mm) | 10 Side Ports | 0.035" (0.89 mm) | | | No Applicable Code |
| 4903510STF-NB | Non-Braided | 4F | 90 cm | STR | Straight Flush | 0.040" (1.02 mm) | 10 Side Ports | 0.035" (0.89 mm) | | | No Applicable Code |
| 4903510UBF-NB | Non-Braided | 4F | 90 cm | UBF | Ultra Bolus Flush | 0.040" (1.02 mm) | 10 Side Ports | 0.035" (0.89 mm) | | | No Applicable Code |
| 490356MHK-NB | Non-Braided | 4F | 90 cm | MOD HOOK | Modified Hook Flush | 0.040" (1.02 mm) | 6 Side Ports | 0.035" (0.89 mm) | | | No Applicable Code |
| 490356SHP-NB | Non-Braided | 4F | 90 cm | SH FL | Shepherd Flush | 0.040" (1.02 mm) | 6 Side Ports | 0.035" (0.89 mm) | | | No Applicable Code |
| 5100354RBI | Braided | 5F | 100 cm | RBI | RBI | 0.046" (1.17 mm) | 4 Side Ports | 0.035" (0.89 mm) | | | |
| 510035B1 | Braided | 5F | 100 cm | BENT 1 | Bentson 1 | 0.046" (1.17 mm) | 0 Side Ports | 0.035" (0.89 mm) | | | No Applicable Code |
| 510035B2 | Braided | 5F | 100 cm | BENT 2 | Bentson 2 | 0.046" (1.17 mm) | 0 Side Ports | 0.035" (0.89 mm) | | | No Applicable Code |
| 510035BER | Braided | 5F | 100 cm | BERN | Berenstein | 0.046" (1.17 mm) | 0 Side Ports | 0.035" (0.89 mm) | | | No Applicable Code |
| 510035HH1 | Braided | 5F | 100 cm | HH 1 | Headhunter 1 | 0.046" (1.17 mm) | 0 Side Ports | 0.035" (0.89 mm) | | | No Applicable Code |
| 510035HH3 | Braided | 5F | 100 cm | HH 3 | Headhunter 3 | 0.046" (1.17 mm) | 0 Side Ports | 0.035" (0.89 mm) | | | No Applicable Code |
| 510035MANI | Braided | 5F | 100 cm | MANI | Mani | 0.046" (1.17 mm) | 0 Side Ports | 0.035" (0.89 mm) | | | No Applicable Code |
| 510035MC | Braided | 5F | 100 cm | MC | Modified Cerebral | 0.046" (1.17 mm) | 0 Side Ports | 0.035" (0.89 mm) | | | No Applicable Code |
| 510035MOT | Braided | 5F | 100 cm | MOT | Amir Motarjeme™ | 0.046" (1.17 mm) | 0 Side Ports | 0.035" (0.89 mm) | | | No Applicable Code |
| 510035OSB1 | Braided | 5F | 100 cm | OSB 1 | Osborn | 0.046" (1.17 mm) | 0 Side Ports | 0.035" (0.89 mm) | | | No Applicable Code |
| 510035RBI | Braided | 5F | 100 cm | RBI | RBI | 0.046" (1.17 mm) | 0 Side Ports | 0.035" (0.89 mm) | | | No Applicable Code |
| 510035SIM1 | Braided | 5F | 100 cm | SIM 1 | Simmons 1 | 0.046" (1.17 mm) | 0 Side Ports | 0.035" (0.89 mm) | | | No Applicable Code |
| 510035SIM2 | Braided | 5F | 100 cm | SIM 2 | Simmons 2 | 0.046" (1.17 mm) | 0 Side Ports | 0.035" (0.89 mm) | | | No Applicable Code |
| 510035VER | Braided | 5F | 100 cm | VERT | Vertebral | 0.046" (1.17 mm) | 0 Side Ports | 0.035" (0.89 mm) | | | No Applicable Code |
| 510038B1 | Braided | 5F | 100 cm | BENT 1 | Bentson 1 | 0.046" (1.17 mm) | 0 Side Ports | 0.038" (0.97 mm) | | | No Applicable Code |
| 510038BER | Braided | 5F | 100 cm | BERN | Berenstein | 0.046" (1.17 mm) | 0 Side Ports | 0.038" (0.97 mm) | | | No Applicable Code |
| 510038CB1 | Braided | 5F | 100 cm | CB 1 | Cobra 1 | 0.046" (1.17 mm) | 0 Side Ports | 0.038" (0.97 mm) | | | No Applicable Code |
| 510038CB2 | Braided | 5F | 100 cm | CB 2 | Cobra 2 | 0.046" (1.17 mm) | 0 Side Ports | 0.038" (0.97 mm) | | | No Applicable Code |
| 510038HH1 | Braided | 5F | 100 cm | HH 1 | Headhunter 1 | 0.046" (1.17 mm) | 0 Side Ports | 0.038" (0.97 mm) | | | No Applicable Code |
| 510038HH3 | Braided | 5F | 100 cm | HH 3 | Headhunter 3 | 0.046" (1.17 mm) | 0 Side Ports | 0.038" (0.97 mm) | | | No Applicable Code |
| 510038HS | Braided | 5F | 100 cm | HS 1 | Hockey Stick | 0.046" (1.17 mm) | 0 Side Ports | 0.038" (0.97 mm) | 4.5 cm | | No Applicable Code |
| 510038IMAPC | Braided | 5F | 100 cm | MC 1 | MC 1 | 0.046" (1.17 mm) | 0 Side Ports | 0.038" (0.97 mm) | | | No Applicable Code |
| 510038IRDC | Braided | 5F | 100 cm | RDC | Renal Double Curve | 0.046" (1.17 mm) | 0 Side Ports | 0.038" (0.97 mm) | | | No Applicable Code |
| 510038MANI | Braided | 5F | 100 cm | MANI | Mani | 0.046" (1.17 mm) | 0 Side Ports | 0.038" (0.97 mm) | | | No Applicable Code |
| 510038MC | Braided | 5F | 100 cm | MC | Modified Cerebral | 0.046" (1.17 mm) | 0 Side Ports | 0.038" (0.97 mm) | | | No Applicable Code |
| 510038MPA1 | Braided | 5F | 100 cm | MP A1 | Multipurpose A1 | 0.046" (1.17 mm) | 0 Side Ports | 0.038" (0.97 mm) | | | No Applicable Code |
| 510038N1 | Braided | 5F | 100 cm | NEWT 1 | Newton 1 | 0.046" (1.17 mm) | 0 Side Ports | 0.038" (0.97 mm) | | | No Applicable Code |
| 510038N2 | Braided | 5F | 100 cm | NEWT 2 | Newton 2 | 0.046" (1.17 mm) | 0 Side Ports | 0.038" (0.97 mm) | | | No Applicable Code |
| 510038N3 | Braided | 5F | 100 cm | NEWT 3 | Newton 3 | 0.046" (1.17 mm) | 0 Side Ports | 0.038" (0.97 mm) | | | No Applicable Code |
| 510038N4 | Braided | 5F | 100 cm | NEWT 4 | Newton 4 | 0.046" (1.17 mm) | 0 Side Ports | 0.038" (0.97 mm) | | | No Applicable Code |
| 510038SIM1 | Braided | 5F | 100 cm | SIM 1 | Simmons 1 | 0.046" (1.17 mm) | 0 Side Ports | 0.038" (0.97 mm) | | | No Applicable Code |
| 510038SIM2 | Braided | 5F | 100 cm | SIM 2 | Simmons 2 | 0.046" (1.17 mm) | 0 Side Ports | 0.038" (0.97 mm) | | | No Applicable Code |
| 510038VER | Braided | 5F | 100 cm | VERT | Vertebral | 0.046" (1.17 mm) | 0 Side Ports | 0.038" (0.97 mm) | | | No Applicable Code |
| 51103510PIG-NB | Non-Braided | 5F | 110 cm | PIG | Pigtail Flush | 0.049" (1.24 mm) | 10 Side Ports | 0.035" (0.89 mm) | | | No Applicable Code |
| 511035STS | Braided | 5F | 110 cm | STS | Straight Selective | 0.046" (1.17 mm) | 0 Side Ports | 0.035" (0.89 mm) | | | No Applicable Code |
| 51103810PIG-NB | Non-Braided | 5F | 110 cm | PIG | Pigtail Flush | 0.049" (1.24 mm) | 10 Side Ports | 0.038" (0.97 mm) | | | No Applicable Code |
| 511038RADIM | Braided | 5F | 110 cm | RADIAL IM | Radial IM | 0.046" (1.17 mm) | 0 Side Ports | 0.038" (0.97 mm) | | | |
| 511038STS | Braided | 5F | 110 cm | STS | Straight Selective | 0.046" (1.17 mm) | 0 Side Ports | 0.038" (0.97 mm) | | | No Applicable Code |
| 512535HH1 | Braided | 5F | 125 cm | HH 1 | Headhunter 1 | 0.046" (1.17 mm) | 0 Side Ports | 0.035" (0.89 mm) | | | No Applicable Code |
| 512535SIM1 | Braided | 5F | 125 cm | SIM 1 | Simmons 1 | 0.046" (1.17 mm) | 0 Side Ports | 0.035" (0.89 mm) | | | No Applicable Code |
| 512535VER | Braided | 5F | 125 cm | VERT | Vertebral | 0.046" (1.17 mm) | 0 Side Ports | 0.035" (0.89 mm) | | | No Applicable Code |
| 512538BER | Braided | 5F | 125 cm | BERN | Berenstein | 0.046" (1.17 mm) | 0 Side Ports | 0.038" (0.97 mm) | | | No Applicable Code |
| 512538HH1 | Braided | 5F | 125 cm | HH 1 | Headhunter 1 | 0.046" (1.17 mm) | 0 Side Ports | 0.038" (0.97 mm) | | | |
| 512538MPA1 | Braided | 5F | 125 cm | MP A1 | Multipurpose A1 | 0.046" (1.17 mm) | 0 Side Ports | 0.038" (0.97 mm) | | | No Applicable Code |
| 5303510PIG-NB | Non-Braided | 5F | 30 cm | PIG | Pigtail Flush | 0.049" (1.24 mm) | 10 Side Ports | 0.035" (0.89 mm) | | | No Applicable Code |
| 53035BER | Braided | 5F | 30 cm | BERN | Berenstein | 0.046" (1.17 mm) | 0 Side Ports | 0.035" (0.89 mm) | | | No Applicable Code |
| 53035KA2 | Braided | 5F | 30 cm | KA 2 | KA2 | 0.046" (1.17 mm) | 0 Side Ports | 0.035" (0.89 mm) | | | No Applicable Code |
| 53035MODCB1 | Braided | 5F | 30 cm | MOD CB 1 | Modified Cobra 1 | 0.046" (1.17 mm) | 0 Side Ports | 0.035" (0.89 mm) | | | No Applicable Code |
| 53035RIM | Braided | 5F | 30 cm | RIM | RIM | 0.046" (1.17 mm) | 0 Side Ports | 0.035" (0.89 mm) | | | No Applicable Code |
| 53035STR | Braided | 5F | 30 cm | STR | Straight Selective | 0.046" (1.17 mm) | 0 Side Ports | 0.035" (0.89 mm) | | | No Applicable Code |
| 54035RIM | Braided | 5F | 40 cm | RIM | RIM | 0.046" (1.17 mm) | 0 Side Ports | 0.035" (0.89 mm) | | | |
| 54035STS | Braided | 5F | 40 cm | STS | Straight Selective | 0.046" (1.17 mm) | 0 Side Ports | 0.035" (0.89 mm) | | | |
| 54038KA2 | Braided | 5F | 40 cm | KA 2 | KA2 | 0.046" (1.17 mm) | 0 Side Ports | 0.038" (0.97 mm) | | | No Applicable Code |
| 54038STS | Braided | 5F | 40 cm | STS | Straight Selective | 0.046" (1.17 mm) | 0 Side Ports | 0.038" (0.97 mm) | | | |
| 5653510PIG-NB | Non-Braided | 5F | 65 cm | PIG | Pigtail Flush | 0.049" (1.24 mm) | 10 Side Ports | 0.035" (0.89 mm) | | | No Applicable Code |
| 5653510STF-NB | Non-Braided | 5F | 65 cm | STR | Straight Flush | 0.049" (1.24 mm) | 10 Side Ports | 0.035" (0.89 mm) | | | No Applicable Code |
| 5653510UBF-NB | Non-Braided | 5F | 65 cm | UBF | Ultra Bolus Flush | 0.049" (1.24 mm) | 10 Side Ports | 0.035" (0.89 mm) | | | No Applicable Code |
| 565352CB1 | Braided | 5F | 65 cm | CB 1 | Cobra 1 | 0.046" (1.17 mm) | 2 Side Ports | 0.035" (0.89 mm) | | | No Applicable Code |
| 565352CB2 | Braided | 5F | 65 cm | CB 2 | Cobra 2 | 0.046" (1.17 mm) | 2 Side Ports | 0.035" (0.89 mm) | | | No Applicable Code |
| 565352HK0-8 | Braided | 5F | 65 cm | HK 0.8 | Hook 0.8 | 0.046" (1.17 mm) | 2 Side Ports | 0.035" (0.89 mm) | | | No Applicable Code |
| 565352HK1-0 | Braided | 5F | 65 cm | HK 1.0 | Hook 1.0 | 0.046" (1.17 mm) | 2 Side Ports | 0.035" (0.89 mm) | | | No Applicable Code |
| 565352RC | Braided | 5F | 65 cm | RDC | Renal Double Curve | 0.046" (1.17 mm) | 2 Side Ports | 0.035" (0.89 mm) | | | No Applicable Code |
| 565352SH0-8 | Braided | 5F | 65 cm | SH 0.8 | Shepherd Hook 0.8 | 0.046" (1.17 mm) | 2 Side Ports | 0.035" (0.89 mm) | | | No Applicable Code |
| 565352SH1-0 | Braided | 5F | 65 cm | SH 1.0 | Shepherd Hook 1.0 | 0.046" (1.17 mm) | 2 Side Ports | 0.035" (0.89 mm) | | | No Applicable Code |
| 565354RBI | Braided | 5F | 65 cm | RBI | RBI | 0.046" (1.17 mm) | 4 Side Ports | 0.035" (0.89 mm) | | | No Applicable Code |
| 565356MHK-NB | Non-Braided | 5F | 65 cm | MOD HOOK | Modified Hook Flush | 0.049" (1.24 mm) | 6 Side Ports | 0.035" (0.89 mm) | | | No Applicable Code |
| 565356SHP-NB | Non-Braided | 5F | 65 cm | SH FL | Shepherd Flush | 0.049" (1.24 mm) | 6 Side Ports | 0.035" (0.89 mm) | | | No Applicable Code |
| 56535B1 | Braided | 5F | 65 cm | BENT 1 | Bentson 1 | 0.046" (1.17 mm) | 0 Side Ports | 0.035" (0.89 mm) | | | No Applicable Code |
| 56535BER | Braided | 5F | 65 cm | BERN | Berenstein | 0.046" (1.17 mm) | 0 Side Ports | 0.035" (0.89 mm) | | | No Applicable Code |
| 56535MOT | Braided | 5F | 65 cm | MOT | Amir Motarjeme™ | 0.046" (1.17 mm) | 0 Side Ports | 0.035" (0.89 mm) | | | No Applicable Code |
| 56535MRIMST | Braided | 5F | 65 cm | MINI RIM ST | Mini Rim Short Tip | 0.044" (1.12 mm) | 0 Side Ports | 0.035" (0.89 mm) | | | |
| 56535RBI | Braided | 5F | 65 cm | RBI | RBI | 0.046" (1.17 mm) | 0 Side Ports | 0.035" (0.89 mm) | | | No Applicable Code |
| 56535RIM | Braided | 5F | 65 cm | RIM | RIM | 0.046" (1.17 mm) | 0 Side Ports | 0.035" (0.89 mm) | | | No Applicable Code |
| 56535SIM1 | Braided | 5F | 65 cm | SIM 1 | Simmons 1 | 0.040" (1.02 mm) | 0 Side Ports | 0.035" (0.89 mm) | | | No Applicable Code |
| 5653810MUBF-NB | Non-Braided | 5F | 65 cm | MOD UBF | Modified Bolus Flush | 0.049" (1.24 mm) | 10 Side Ports | 0.038" (0.97 mm) | | | No Applicable Code |
| 5653810PIG-NB | Non-Braided | 5F | 65 cm | PIG | Pigtail Flush | 0.049" (1.24 mm) | 10 Side Ports | 0.038" (0.97 mm) | | | No Applicable Code |
| 565382CB1 | Braided | 5F | 65 cm | CB 1 | Cobra 1 | 0.046" (1.17 mm) | 2 Side Ports | 0.038" (0.97 mm) | | | No Applicable Code |
| 565382CB2 | Braided | 5F | 65 cm | CB 2 | Cobra 2 | 0.046" (1.17 mm) | 2 Side Ports | 0.038" (0.97 mm) | | | No Applicable Code |
| 565386MHK-NB | Non-Braided | 5F | 65 cm | MOD HOOK | Modified Hook Flush | 0.049" (1.24 mm) | 6 Side Ports | 0.038" (0.97 mm) | | | No Applicable Code |
| 56538BER | Braided | 5F | 65 cm | BERN | Berenstein | 0.046" (1.17 mm) | 0 Side Ports | 0.038" (0.97 mm) | | | No Applicable Code |
| 56538CB1 | Braided | 5F | 65 cm | CB 1 | Cobra 1 | 0.046" (1.17 mm) | 0 Side Ports | 0.038" (0.97 mm) | | | No Applicable Code |
| 56538CB2 | Braided | 5F | 65 cm | CB 2 | Cobra 2 | 0.046" (1.17 mm) | 0 Side Ports | 0.038" (0.97 mm) | | | No Applicable Code |
| 56538IRG1 | Braided | 5F | 65 cm | RG 1 | Renal Vein Renin 1 | 0.046" (1.17 mm) | 0 Side Ports | 0.038" (0.97 mm) | | | No Applicable Code |
| 56538IRG2 | Braided | 5F | 65 cm | RG 2 | Renal Vein Renin 2 | 0.046" (1.17 mm) | 0 Side Ports | 0.038" (0.97 mm) | | | No Applicable Code |
| 56538KA2 | Braided | 5F | 65 cm | KA 2 | KA2 | 0.046" (1.17 mm) | 0 Side Ports | 0.038" (0.97 mm) | | | No Applicable Code |
| 56538MPA1 | Braided | 5F | 65 cm | MP A1 | Multipurpose A1 | 0.046" (1.17 mm) | 0 Side Ports | 0.038" (0.97 mm) | | | |
| 56538MW2 | Braided | 5F | 65 cm | MW 2 | MW2 | 0.046" (1.17 mm) | 0 Side Ports | 0.038" (0.97 mm) | | | No Applicable Code |
| 56538SIM1 | Braided | 5F | 65 cm | SIM 1 | Simmons 1 | 0.046" (1.17 mm) | 0 Side Ports | 0.038" (0.97 mm) | | | No Applicable Code |
| 56538SIM2 | Braided | 5F | 65 cm | SIM 2 | Simmons 2 | 0.046" (1.17 mm) | 0 Side Ports | 0.038" (0.97 mm) | | | No Applicable Code |
| 56538STS | Braided | 5F | 65 cm | STS | Straight Selective | 0.046" (1.17 mm) | 0 Side Ports | 0.038" (0.97 mm) | | | No Applicable Code |
| 56538VER | Braided | 5F | 65 cm | VERT | Vertebral | 0.046" (1.17 mm) | 0 Side Ports | 0.038" (0.97 mm) | | | No Applicable Code |
| 57538CARN10 | Braided | 5F | 75 cm | CPC-10 | CPC-10 | 0.046" (1.17 mm) | 0 Side Ports | 0.038" (0.97 mm) | 10.0 cm | | No Applicable Code |
| 57538CARN10S | Braided | 5F | 75 cm | CPC-10S | CPC-10S | 0.046" (1.17 mm) | 0 Side Ports | 0.038" (0.97 mm) | 10.0 cm | | No Applicable Code |
| 57538CARN15 | Braided | 5F | 75 cm | CPC-15 | CPC-15 | 0.046" (1.17 mm) | 0 Side Ports | 0.038" (0.97 mm) | 15.0 cm | | No Applicable Code |
| 57538CARN15S | Braided | 5F | 75 cm | CPC-15S | CPC-15S | 0.046" (1.17 mm) | 0 Side Ports | 0.038" (0.97 mm) | 15.0 cm | | No Applicable Code |
| 57538CARN5 | Braided | 5F | 75 cm | CPC-5 | CPC-5 | 0.046" (1.17 mm) | 0 Side Ports | 0.038" (0.97 mm) | 5.0 cm | | No Applicable Code |
| 57538CARN5S | Braided | 5F | 75 cm | CPC-5S | CPC-5S | 0.046" (1.17 mm) | 0 Side Ports | 0.038" (0.97 mm) | 5.0 cm | | No Applicable Code |
| 57538IDLOOP | Braided | 5F | 75 cm | D LOOP | Double Loop | 0.046" (1.17 mm) | 0 Side Ports | 0.038" (0.97 mm) | | | No Applicable Code |
| 58035MHK1 | Braided | 5F | 80 cm | M HK 1 | Modified Hook 1 | 0.046" (1.17 mm) | 0 Side Ports | 0.035" (0.89 mm) | | | No Applicable Code |
| 58035MHK2 | Braided | 5F | 80 cm | M HK 2 | Modified Hook 2 | 0.046" (1.17 mm) | 0 Side Ports | 0.035" (0.89 mm) | | | No Applicable Code |
| 58035MHK3 | Braided | 5F | 80 cm | M HK 3 | Modified Hook 3 | 0.046" (1.17 mm) | 0 Side Ports | 0.035" (0.89 mm) | | | No Applicable Code |
| 58035RE | Braided | 5F | 80 cm | REUT | Reuter | 0.046" (1.17 mm) | 0 Side Ports | 0.035" (0.89 mm) | | | No Applicable Code |
| 58038IRH1 | Braided | 5F | 80 cm | RH 1 | Rousch Hepatic 1 | 0.046" (1.17 mm) | 0 Side Ports | 0.038" (0.97 mm) | | | No Applicable Code |
| 58038IRH2 | Braided | 5F | 80 cm | RH 2 | Rousch Hepatic 2 | 0.046" (1.17 mm) | 0 Side Ports | 0.038" (0.97 mm) | | | No Applicable Code |
| 58038MIK | Braided | 5F | 80 cm | MIKAL | Mikaelsson | 0.046" (1.17 mm) | 0 Side Ports | 0.038" (0.97 mm) | | | No Applicable Code |
| 58038RE | Braided | 5F | 80 cm | REUT | Reuter | 0.046" (1.17 mm) | 0 Side Ports | 0.038" (0.97 mm) | | | No Applicable Code |
| 5903510PIG-NB | Non-Braided | 5F | 90 cm | PIG | Pigtail Flush | 0.049" (1.24 mm) | 10 Side Ports | 0.035" (0.89 mm) | | | No Applicable Code |
| 5903510STF-NB | Non-Braided | 5F | 90 cm | STR | Straight Flush | 0.049" (1.24 mm) | 10 Side Ports | 0.035" (0.89 mm) | | | No Applicable Code |
| 5903510UBF-NB | Non-Braided | 5F | 90 cm | UBF | Ultra Bolus Flush | 0.049" (1.24 mm) | 10 Side Ports | 0.035" (0.89 mm) | | | No Applicable Code |
| 59035IUAC | Braided | 5F | 90 cm | UAC 19cm | Uterine Artery Catheter | 0.046" (1.17 mm) | 0 Side Ports | 0.035" (0.89 mm) | | | No Applicable Code |
| 59035IUACTMB | Braided | 5F | 90 cm | UAC 19cmTaper | Uterine Artery Catheter | 0.046" (1.17 mm) | 0 Side Ports | 0.035" (0.89 mm) | | 1 Band | No Applicable Code |
| 59035UAC | Braided | 5F | 90 cm | UAC | Uterine Artery Catheter | 0.046" (1.17 mm) | 0 Side Ports | 0.035" (0.89 mm) | | | |
| 5903810PIG-NB | Non-Braided | 5F | 90 cm | PIG | Pigtail Flush | 0.049" (1.24 mm) | 10 Side Ports | 0.038" (0.97 mm) | | | No Applicable Code |
| 590386MHK-NB | Non-Braided | 5F | 90 cm | MOD HOOK | Modified Hook Flush | 0.049" (1.24 mm) | 6 Side Ports | 0.038" (0.97 mm) | | | No Applicable Code |
| 59038UAC | Braided | 5F | 90 cm | UAC | Uterine Artery Catheter | 0.046" (1.17 mm) | 0 Side Ports | 0.038" (0.97 mm) | | | No Applicable Code |