Learn More About ConcierGE® Guiding Catheters
Features & Benefits
Merit's advanced braiding technology and proprietary polymer-blend shaft materials allow for an increase in lumen size while maintaining the exceptional backup support afforded by the Concierge product line.
In an independent survey, approximately 40% of Interventional Cardiologists stated that their current guiding catheter does not meet their needs for Kink Resistance. Over 80% stated that either Backup Support or an Atraumatic Tip was the most important feature of a guiding catheter.1
The Concierge is the first guiding catheter to offer guiding excellence with superior performance in the features valued most: kink resistance, backup support, an atraumatic tip, and 1:1 torque.
Kink Resistance 
The Concierge has approximately 30% more kink resistance 2 than the leading brands, facilitating the advancement and withdrawal of interventional devices.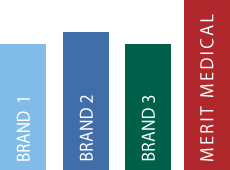 Backup Support

The Concierge provides reliable backup support with proprietary nylon blend shaft material and wire braid technology giving you the ability to advance balloons and stents to the diseased artery without losing shaft strength.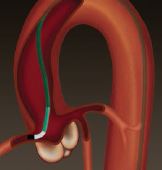 1:1 Torque

The Concierge demonstrates excellent 1:1 torque response, promoting quicker catheter seating with less whipping.
Atraumatic Tip

The Concierge has one of the softest, most radiused tips for safer tracking and seating so physicians of all experience levels can navigate challenging anatomy with confidence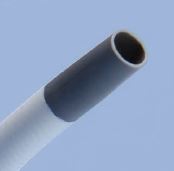 1HRA: HealthCare Research & Analtyics. Data on file.
2Test results are based on 6F guide catheter comparison. Data on file.
3 At 1/2 hub rotation. Data on file.
Ordering Information
| Catalog Number | Expanded Family Name | Short Label Description | French Size (F) | Length | # Side Holes | Catheter Shape | Internal Diameter | Recommended Guide Wire | Sterilization | Latex Free | HCPCS Code | Shipping Box Qty |
| --- | --- | --- | --- | --- | --- | --- | --- | --- | --- | --- | --- | --- |
| CGC5100AL1 | ConcierGE Guiding Excellence™ | AL 1 | 5F | 100 cm | 0 Side Holes | Amplatz Left 1 | 0.057" (1.45 mm) | 0.038" (0.97 mm) | ETO | Yes | C1887 | 1 |
| CGC5100AL1SH | ConcierGE Guiding Excellence™ | AL 1 SH | 5F | 100 cm | 2 Side Holes | Amplatz Left 1 | 0.057" (1.45 mm) | 0.038" (0.97 mm) | ETO | Yes | C1887 | 1 |
| CGC5100AL2 | ConcierGE Guiding Excellence™ | AL 2 | 5F | 100 cm | 0 Side Holes | Amplatz Left 2 | 0.057" (1.45 mm) | 0.038" (0.97 mm) | ETO | Yes | C1887 | 1 |
| CGC5100AL2SH | ConcierGE Guiding Excellence™ | AL 2 SH | 5F | 100 cm | 2 Side Holes | Amplatz Left 2 | 0.057" (1.45 mm) | 0.038" (0.97 mm) | ETO | Yes | C1887 | 1 |
| CGC5100AL3 | ConcierGE Guiding Excellence™ | AL 3 | 5F | 100 cm | 0 Side Holes | Amplatz Left 3 | 0.057" (1.45 mm) | 0.038" (0.97 mm) | ETO | Yes | C1887 | 1 |
| CGC5100AL75 | ConcierGE Guiding Excellence™ | AL .75 | 5F | 100 cm | 0 Side Holes | Amplatz Left .75 | 0.057" (1.45 mm) | 0.038" (0.97 mm) | ETO | Yes | | 1 |
| CGC5100AR1 | ConcierGE Guiding Excellence™ | AR 1 | 5F | 100 cm | 0 Side Holes | Amplatz Right 1 | 0.057" (1.45 mm) | 0.038" (0.97 mm) | ETO | Yes | C1887 | 1 |
| CGC5100AR1SH | ConcierGE Guiding Excellence™ | AR 1 SH | 5F | 100 cm | 2 Side Holes | Amplatz Right 1 | 0.057" (1.45 mm) | 0.038" (0.97 mm) | ETO | Yes | C1887 | 1 |
| CGC5100AR2 | ConcierGE Guiding Excellence™ | AR 2 | 5F | 100 cm | 0 Side Holes | Amplatz Right 2 | 0.057" (1.45 mm) | 0.038" (0.97 mm) | ETO | Yes | C1887 | 1 |
| CGC5100AR2SH | ConcierGE Guiding Excellence™ | AR 2 SH | 5F | 100 cm | 2 Side Holes | Amplatz Right 2 | 0.057" (1.45 mm) | 0.038" (0.97 mm) | ETO | Yes | C1887 | 1 |
| CGC5100AR3 | ConcierGE Guiding Excellence™ | AR 3 | 5F | 100 cm | 0 Side Holes | Amplatz Right 3 | 0.057" (1.45 mm) | 0.038" (0.97 mm) | ETO | Yes | C1887 | 1 |
| CGC5100EG | ConcierGE Guiding Excellence™ | EG | 5F | 100 cm | 0 Side Holes | El Gamal | 0.057" (1.45 mm) | 0.038" (0.97 mm) | ETO | Yes | C1887 | 1 |
| CGC5100HS | ConcierGE Guiding Excellence™ | HS | 5F | 100 cm | 0 Side Holes | Hockey Stick | 0.057" (1.45 mm) | 0.038" (0.97 mm) | ETO | Yes | C1887 | 1 |
| CGC5100IM | ConcierGE Guiding Excellence™ | IM | 5F | 100 cm | 0 Side Holes | Internal Mammary | 0.057" (1.45 mm) | 0.038" (0.97 mm) | ETO | Yes | C1887 | 1 |
| CGC5100IMSH | ConcierGE Guiding Excellence™ | IM SH | 5F | 100 cm | 2 Side Holes | Internal Mammary | 0.057" (1.45 mm) | 0.038" (0.97 mm) | ETO | Yes | C1887 | 1 |
| CGC5100JL30 | ConcierGE Guiding Excellence™ | JL 3.0 | 5F | 100 cm | 0 Side Holes | Judkins Left 3.0 | 0.057" (1.45 mm) | 0.038" (0.97 mm) | ETO | Yes | C1887 | 1 |
| CGC5100JL35 | ConcierGE Guiding Excellence™ | JL 3.5 | 5F | 100 cm | 0 Side Holes | Judkins Left 3.5 | 0.057" (1.45 mm) | 0.038" (0.97 mm) | ETO | Yes | C1887 | 1 |
| CGC5100JL35SH | ConcierGE Guiding Excellence™ | JL 3.5 SH | 5F | 100 cm | 2 Side Holes | Judkins Left 3.5 | 0.057" (1.45 mm) | 0.038" (0.97 mm) | ETO | Yes | C1887 | 1 |
| CGC5100JL35ST | ConcierGE Guiding Excellence™ | JL 3.5 ST | 5F | 100 cm | 0 Side Holes | Judkins Left 3.5 (Short Tip) | 0.057" (1.45 mm) | 0.038" (0.97 mm) | ETO | Yes | C1887 | 1 |
| CGC5100JL40 | ConcierGE Guiding Excellence™ | JL 4.0 | 5F | 100 cm | 0 Side Holes | Judkins Left 4.0 | 0.057" (1.45 mm) | 0.038" (0.97 mm) | ETO | Yes | C1887 | 1 |
| CGC5100JL40ST | ConcierGE Guiding Excellence™ | JL 4.0 ST | 5F | 100 cm | 0 Side Holes | Judkins Left 4.0 (Short Tip) | 0.057" (1.45 mm) | 0.038" (0.97 mm) | ETO | Yes | C1887 | 1 |
| CGC5100JL45 | ConcierGE Guiding Excellence™ | JL 4.5 | 5F | 100 cm | 0 Side Holes | Judkins Left 4.5 | 0.057" (1.45 mm) | 0.038" (0.97 mm) | ETO | Yes | C1887 | 1 |
| CGC5100JL50 | ConcierGE Guiding Excellence™ | JL 5.0 | 5F | 100 cm | 0 Side Holes | Judkins Left 5.0 | 0.057" (1.45 mm) | 0.038" (0.97 mm) | ETO | Yes | C1887 | 1 |
| CGC5100JR30 | ConcierGE Guiding Excellence™ | JR 3.0 | 5F | 100 cm | 0 Side Holes | Judkins Right 3.0 | 0.057" (1.45 mm) | 0.038" (0.97 mm) | ETO | Yes | C1887 | 1 |
| CGC5100JR35 | ConcierGE Guiding Excellence™ | JR 3.5 | 5F | 100 cm | 0 Side Holes | Judkins Right 3.5 | 0.057" (1.45 mm) | 0.038" (0.97 mm) | ETO | Yes | C1887 | 1 |
| CGC5100JR35SH | ConcierGE Guiding Excellence™ | JR 3.5 SH | 5F | 100 cm | 2 Side Holes | Judkins Right 3.5 | 0.057" (1.45 mm) | 0.038" (0.97 mm) | ETO | Yes | C1887 | 1 |
| CGC5100JR40 | ConcierGE Guiding Excellence™ | JR 4.0 | 5F | 100 cm | 0 Side Holes | Judkins Right 4.0 | 0.057" (1.45 mm) | 0.038" (0.97 mm) | ETO | Yes | C1887 | 1 |
| CGC5100JR50 | ConcierGE Guiding Excellence™ | JR 5.0 | 5F | 100 cm | 0 Side Holes | Judkins Right 5.0 | 0.057" (1.45 mm) | 0.038" (0.97 mm) | ETO | Yes | C1887 | 1 |
| CGC5100LCB | ConcierGE Guiding Excellence™ | LCB | 5F | 100 cm | 0 Side Holes | Left Coronary Bypass | 0.057" (1.45 mm) | 0.038" (0.97 mm) | ETO | Yes | C1887 | 1 |
| CGC5100MP1 | ConcierGE Guiding Excellence™ | MP 1 | 5F | 100 cm | 0 Side Holes | Multipurpose 1 | 0.057" (1.45 mm) | 0.038" (0.97 mm) | ETO | Yes | C1887 | 1 |
| CGC5100MP1SH | ConcierGE Guiding Excellence™ | MP 1 SH | 5F | 100 cm | 2 Side Holes | Multipurpose 1 | 0.057" (1.45 mm) | 0.038" (0.97 mm) | ETO | Yes | C1887 | 1 |
| CGC5100RCB | ConcierGE Guiding Excellence™ | RCB | 5F | 100 cm | 0 Side Holes | Right Coronary Bypass | 0.057" (1.45 mm) | 0.038" (0.97 mm) | ETO | Yes | C1887 | 1 |
| CGC5100SBS30 | ConcierGE Guiding Excellence™ | SBS 3.0 | 5F | 100 cm | 0 Side Holes | SBS 3.0 | 0.057" (1.45 mm) | 0.038" (0.97 mm) | ETO | Yes | C1887 | 1 |
| CGC5100SBS35 | ConcierGE Guiding Excellence™ | SBS 3.5 | 5F | 100 cm | 0 Side Holes | SBS 3.5 | 0.057" (1.45 mm) | 0.038" (0.97 mm) | ETO | Yes | C1887 | 1 |
| CGC5100SBS35-M | ConcierGE Guiding Excellence™ | SBS 3.5-M | 5F | 100 cm | 0 Side Holes | SBS 3.5 (Mod) | 0.057" (1.45 mm) | 0.038" (0.97 mm) | ETO | Yes | C1887 | 1 |
| CGC5100SBS35-MSH | ConcierGE Guiding Excellence™ | SBS 3.5-M SH | 5F | 100 cm | 2 Side Holes | SBS 3.5 (Mod) | 0.057" (1.45 mm) | 0.038" (0.97 mm) | ETO | Yes | C1887 | 1 |
| CGC5100SBS35SH | ConcierGE Guiding Excellence™ | SBS 3.5 SH | 5F | 100 cm | 2 Side Holes | SBS 3.5 | 0.057" (1.45 mm) | 0.038" (0.97 mm) | ETO | Yes | C1887 | 1 |
| CGC5100SBS40 | ConcierGE Guiding Excellence™ | SBS 4.0 | 5F | 100 cm | 0 Side Holes | SBS 4.0 | 0.057" (1.45 mm) | 0.038" (0.97 mm) | ETO | Yes | C1887 | 1 |
| CGC5100SBS40-M | ConcierGE Guiding Excellence™ | SBS 4.0-M | 5F | 100 cm | 0 Side Holes | SBS 4.0 (Mod) | 0.057" (1.45 mm) | 0.038" (0.97 mm) | ETO | Yes | C1887 | 1 |
| CGC5100SBS40SH | ConcierGE Guiding Excellence™ | SBS 4.0 SH | 5F | 100 cm | 2 Side Holes | SBS 4.0 | 0.057" (1.45 mm) | 0.038" (0.97 mm) | ETO | Yes | C1887 | 1 |
| CGC5100SBSLAD40 | ConcierGE Guiding Excellence™ | SBSLAD 4.0 | 5F | 100 cm | 0 Side Holes | SBSLAD 4.0 | 0.057" (1.45 mm) | 0.038" (0.97 mm) | ETO | Yes | | 1 |
| CGC5100SBSRCA | ConcierGE Guiding Excellence™ | SBSRCA | 5F | 100 cm | 0 Side Holes | SBSRCA | 0.057" (1.45 mm) | 0.038" (0.97 mm) | ETO | Yes | | 1 |
| CGC5100ULT1 | ConcierGE Guiding Excellence™ | ULT1 | 5F | 100 cm | 0 Side Holes | Ultimate 1 | 0.057" (1.45 mm) | 0.038" (0.97 mm) | ETO | Yes | C1887 | 1 |
| CGC5100ULT2 | ConcierGE Guiding Excellence™ | ULT2 | 5F | 100 cm | 0 Side Holes | Ultimate 2 | 0.057" (1.45 mm) | 0.038" (0.97 mm) | ETO | Yes | C1887 | 1 |
| CGC5100ULT3 | ConcierGE Guiding Excellence™ | ULT3 | 5F | 100 cm | 0 Side Holes | Ultimate 3 | 0.057" (1.45 mm) | 0.038" (0.97 mm) | ETO | Yes | C1887 | 1 |
| CGC5100ULT4-T40 | ConcierGE Guiding Excellence™ | ULT 4-T40 | 5F | 100 cm | 0 Side Holes | Ultimate 4-T40 | 0.057" (1.45 mm) | 0.038" (0.97 mm) | ETO | Yes | C1887 | 1 |
| CGC6100AL1 | ConcierGE Guiding Excellence™ | AL 1 | 6F | 100 cm | 0 Side Holes | Amplatz Left 1 | 0.070" (1.78 mm) | 0.038" (0.97 mm) | ETO | Yes | C1887 | 1 |
| CGC6100AL1SH | ConcierGE Guiding Excellence™ | AL 1 SH | 6F | 100 cm | 2 Side Holes | Amplatz Left 1 | 0.070" (1.78 mm) | 0.038" (0.97 mm) | ETO | Yes | C1887 | 1 |
| CGC6100AL2 | ConcierGE Guiding Excellence™ | AL 2 | 6F | 100 cm | 0 Side Holes | Amplatz Left 2 | 0.070" (1.78 mm) | 0.038" (0.97 mm) | ETO | Yes | C1887 | 1 |
| CGC6100AL3 | ConcierGE Guiding Excellence™ | AL 3 | 6F | 100 cm | 0 Side Holes | Amplatz Left 3 | 0.070" (1.78 mm) | 0.038" (0.97 mm) | ETO | Yes | C1887 | 1 |
| CGC6100AL75 | ConcierGE Guiding Excellence™ | AL .75 | 6F | 100 cm | 0 Side Holes | Amplatz Left .75 | 0.070" (1.78 mm) | 0.038" (0.97 mm) | ETO | Yes | | 1 |
| CGC6100AR1 | ConcierGE Guiding Excellence™ | AR 1 | 6F | 100 cm | 0 Side Holes | Amplatz Right 1 | 0.070" (1.78 mm) | 0.038" (0.97 mm) | ETO | Yes | C1887 | 1 |
| CGC6100AR1SH | ConcierGE Guiding Excellence™ | AR 1 SH | 6F | 100 cm | 2 Side Holes | Amplatz Right 1 | 0.070" (1.78 mm) | 0.038" (0.97 mm) | ETO | Yes | C1887 | 1 |
| CGC6100AR2 | ConcierGE Guiding Excellence™ | AR 2 | 6F | 100 cm | 0 Side Holes | Amplatz Right 2 | 0.070" (1.78 mm) | 0.038" (0.97 mm) | ETO | Yes | C1887 | 1 |
| CGC6100AR2SH | ConcierGE Guiding Excellence™ | AR 2 SH | 6F | 100 cm | 2 Side Holes | Amplatz Right 2 | 0.070" (1.78 mm) | 0.038" (0.97 mm) | ETO | Yes | C1887 | 1 |
| CGC6100AR3 | ConcierGE Guiding Excellence™ | AR 3 | 6F | 100 cm | 0 Side Holes | Amplatz Right 3 | 0.070" (1.78 mm) | 0.038" (0.97 mm) | ETO | Yes | C1887 | 1 |
| CGC6100EG | ConcierGE Guiding Excellence™ | EG | 6F | 100 cm | 0 Side Holes | El Gamal | 0.070" (1.78 mm) | 0.038" (0.97 mm) | ETO | Yes | C1887 | 1 |
| CGC6100HS | ConcierGE Guiding Excellence™ | HS | 6F | 100 cm | 0 Side Holes | Hockey Stick | 0.070" (1.78 mm) | 0.038" (0.97 mm) | ETO | Yes | C1887 | 1 |
| CGC6100HSSH | ConcierGE Guiding Excellence™ | HS SH | 6F | 100 cm | 2 Side Holes | Hockey Stick | 0.070" (1.78 mm) | 0.038" (0.97 mm) | ETO | Yes | | 1 |
| CGC6100IM | ConcierGE Guiding Excellence™ | IM | 6F | 100 cm | 0 Side Holes | Internal Mammary | 0.070" (1.78 mm) | 0.038" (0.97 mm) | ETO | Yes | C1887 | 1 |
| CGC6100IMSH | ConcierGE Guiding Excellence™ | IM SH | 6F | 100 cm | 2 Side Holes | Internal Mammary | 0.070" (1.78 mm) | 0.038" (0.97 mm) | ETO | Yes | C1887 | 1 |
| CGC6100JL30 | ConcierGE Guiding Excellence™ | JL 3.0 | 6F | 100 cm | 0 Side Holes | Judkins Left 3.0 | 0.070" (1.78 mm) | 0.038" (0.97 mm) | ETO | Yes | C1887 | 1 |
| CGC6100JL35 | ConcierGE Guiding Excellence™ | JL 3.5 | 6F | 100 cm | 0 Side Holes | Judkins Left 3.5 | 0.070" (1.78 mm) | 0.038" (0.97 mm) | ETO | Yes | C1887 | 1 |
| CGC6100JL35SH | ConcierGE Guiding Excellence™ | JL 3.5 SH | 6F | 100 cm | 2 Side Holes | Judkins Left 3.5 | 0.070" (1.78 mm) | 0.038" (0.97 mm) | ETO | Yes | C1887 | 1 |
| CGC6100JL35ST | ConcierGE Guiding Excellence™ | JL 3.5 ST | 6F | 100 cm | 0 Side Holes | Judkins Left 3.5 (Short Tip) | 0.070" (1.78 mm) | 0.038" (0.97 mm) | ETO | Yes | C1887 | 1 |
| CGC6100JL40 | ConcierGE Guiding Excellence™ | JL 4.0 | 6F | 100 cm | 0 Side Holes | Judkins Left 4.0 | 0.070" (1.78 mm) | 0.038" (0.97 mm) | ETO | Yes | C1887 | 1 |
| CGC6100JL40SH | ConcierGE Guiding Excellence™ | JL 4.0 SH | 6F | 100 cm | 2 Side Holes | Judkins Left 4.0 | 0.070" (1.78 mm) | 0.038" (0.97 mm) | ETO | Yes | C1887 | 1 |
| CGC6100JL40ST | ConcierGE Guiding Excellence™ | JL 4.0 ST | 6F | 100 cm | 0 Side Holes | Judkins Left 4.0 (Short Tip) | 0.070" (1.78 mm) | 0.038" (0.97 mm) | ETO | Yes | C1887 | 1 |
| CGC6100JL45 | ConcierGE Guiding Excellence™ | JL 4.5 | 6F | 100 cm | 0 Side Holes | Judkins Left 4.5 | 0.070" (1.78 mm) | 0.038" (0.97 mm) | ETO | Yes | C1887 | 1 |
| CGC6100JL45SH | ConcierGE Guiding Excellence™ | JL 4.5 SH | 6F | 100 cm | 2 Side Holes | Judkins Left 4.5 | 0.070" (1.78 mm) | 0.038" (0.97 mm) | ETO | Yes | C1887 | 1 |
| CGC6100JL50 | ConcierGE Guiding Excellence™ | JL 5.0 | 6F | 100 cm | 0 Side Holes | Judkins Left 5.0 | 0.070" (1.78 mm) | 0.038" (0.97 mm) | ETO | Yes | C1887 | 1 |
| CGC6100JL50SH | ConcierGE Guiding Excellence™ | JL 5.0 SH | 6F | 100 cm | 2 Side Holes | Judkins Left 5.0 | 0.070" (1.78 mm) | 0.038" (0.97 mm) | ETO | Yes | C1887 | 1 |
| CGC6100JR30 | ConcierGE Guiding Excellence™ | JR 3.0 | 6F | 100 cm | 0 Side Holes | Judkins Right 3.0 | 0.070" (1.78 mm) | 0.038" (0.97 mm) | ETO | Yes | C1887 | 1 |
| CGC6100JR35 | ConcierGE Guiding Excellence™ | JR 3.5 | 6F | 100 cm | 0 Side Holes | Judkins Right 3.5 | 0.070" (1.78 mm) | 0.038" (0.97 mm) | ETO | Yes | C1887 | 1 |
| CGC6100JR35SH | ConcierGE Guiding Excellence™ | JR 3.5 SH | 6F | 100 cm | 2 Side Holes | Judkins Right 3.5 | 0.070" (1.78 mm) | 0.038" (0.97 mm) | ETO | Yes | C1887 | 1 |
| CGC6100JR40 | ConcierGE Guiding Excellence™ | JR 4.0 | 6F | 100 cm | 0 Side Holes | Judkins Right 4.0 | 0.070" (1.78 mm) | 0.038" (0.97 mm) | ETO | Yes | C1887 | 1 |
| CGC6100JR40SH | ConcierGE Guiding Excellence™ | JR 4.0 SH | 6F | 100 cm | 2 Side Holes | Judkins Right 4.0 | 0.070" (1.78 mm) | 0.038" (0.97 mm) | ETO | Yes | C1887 | 1 |
| CGC6100JR50 | ConcierGE Guiding Excellence™ | JR 5.0 | 6F | 100 cm | 0 Side Holes | Judkins Right 5.0 | 0.070" (1.78 mm) | 0.038" (0.97 mm) | ETO | Yes | C1887 | 1 |
| CGC6100JR50SH | ConcierGE Guiding Excellence™ | JR 5.0 SH | 6F | 100 cm | 2 Side Holes | Judkins Right 5.0 | 0.070" (1.78 mm) | 0.038" (0.97 mm) | ETO | Yes | C1887 | 1 |
| CGC6100JR60 | ConcierGE Guiding Excellence™ | JR 6.0 | 6F | 100 cm | 0 Side Holes | Judkins Right 6.0 | 0.070" (1.78 mm) | 0.038" (0.97 mm) | ETO | Yes | C1887 | 1 |
| CGC6100LCB | ConcierGE Guiding Excellence™ | LCB | 6F | 100 cm | 0 Side Holes | Left Coronary Bypass | 0.070" (1.78 mm) | 0.038" (0.97 mm) | ETO | Yes | C1887 | 1 |
| CGC6100LCBSH | ConcierGE Guiding Excellence™ | LCB SH | 6F | 100 cm | 2 Side Holes | Left Coronary Bypass | 0.070" (1.78 mm) | 0.038" (0.97 mm) | ETO | Yes | C1887 | 1 |
| CGC6100MP1 | ConcierGE Guiding Excellence™ | MP 1 | 6F | 100 cm | 0 Side Holes | Multipurpose 1 | 0.070" (1.78 mm) | 0.038" (0.97 mm) | ETO | Yes | C1887 | 1 |
| CGC6100MP1SH | ConcierGE Guiding Excellence™ | MP 1 SH | 6F | 100 cm | 2 Side Holes | Multipurpose 1 | 0.070" (1.78 mm) | 0.038" (0.97 mm) | ETO | Yes | C1887 | 1 |
| CGC6100MPA2SH | ConcierGE Guiding Excellence™ | MP A2 SH | 6F | 100 cm | 1 Side Holes | Multipurpose A2 | 0.070" (1.78 mm) | 0.038" (0.97 mm) | ETO | Yes | C1887 | 1 |
| CGC6100RCB | ConcierGE Guiding Excellence™ | RCB | 6F | 100 cm | 0 Side Holes | Right Coronary Bypass | 0.070" (1.78 mm) | 0.038" (0.97 mm) | ETO | Yes | C1887 | 1 |
| CGC6100RCBSH | ConcierGE Guiding Excellence™ | RCB SH | 6F | 100 cm | 2 Side Holes | Right Coronary Bypass | 0.070" (1.78 mm) | 0.038" (0.97 mm) | ETO | Yes | C1887 | 1 |
| CGC6100RDC | ConcierGE Guiding Excellence™ | RDC | 6F | 100 cm | 0 Side Holes | Renal Double Curve | 0.070" (1.78 mm) | 0.038" (0.97 mm) | ETO | Yes | C1887 | 1 |
| CGC6100SBS30 | ConcierGE Guiding Excellence™ | SBS 3.0 | 6F | 100 cm | 0 Side Holes | SBS 3.0 | 0.070" (1.78 mm) | 0.038" (0.97 mm) | ETO | Yes | C1887 | 1 |
| CGC6100SBS30SH | ConcierGE Guiding Excellence™ | SBS 3.0 SH | 6F | 100 cm | 2 Side Holes | SBS 3.0 | 0.070" (1.78 mm) | 0.038" (0.97 mm) | ETO | Yes | C1887 | 1 |
| CGC6100SBS35 | ConcierGE Guiding Excellence™ | SBS 3.5 | 6F | 100 cm | 0 Side Holes | SBS 3.5 | 0.070" (1.78 mm) | 0.038" (0.97 mm) | ETO | Yes | C1887 | 1 |
| CGC6100SBS35-M | ConcierGE Guiding Excellence™ | SBS 3.5-M | 6F | 100 cm | 0 Side Holes | SBS 3.5 (Mod) | 0.070" (1.78 mm) | 0.038" (0.97 mm) | ETO | Yes | C1887 | 1 |
| CGC6100SBS35SH | ConcierGE Guiding Excellence™ | SBS 3.5 SH | 6F | 100 cm | 2 Side Holes | SBS 3.5 | 0.070" (1.78 mm) | 0.038" (0.97 mm) | ETO | Yes | C1887 | 1 |
| CGC6100SBS375-M | ConcierGE Guiding Excellence™ | SBS 3.75-M | 6F | 100 cm | 0 Side Holes | SBS 3.75 (Mod) | 0.070" (1.78 mm) | 0.038" (0.97 mm) | ETO | Yes | C1887 | 1 |
| CGC6100SBS40 | ConcierGE Guiding Excellence™ | SBS 4.0 | 6F | 100 cm | 0 Side Holes | SBS 4.0 | 0.070" (1.78 mm) | 0.038" (0.97 mm) | ETO | Yes | C1887 | 1 |
| CGC6100SBS40-M | ConcierGE Guiding Excellence™ | SBS 4.0-M | 6F | 100 cm | 0 Side Holes | SBS 4.0 (Mod) | 0.070" (1.78 mm) | 0.038" (0.97 mm) | ETO | Yes | C1887 | 1 |
| CGC6100SBS40-MSH | ConcierGE Guiding Excellence™ | SBS 4.0-M SH | 6F | 100 cm | 2 Side Holes | SBS 4.0 (Mod) | 0.070" (1.78 mm) | 0.038" (0.97 mm) | ETO | Yes | C1887 | 1 |
| CGC6100SBS40SH | ConcierGE Guiding Excellence™ | SBS 4.0 SH | 6F | 100 cm | 2 Side Holes | SBS 4.0 | 0.070" (1.78 mm) | 0.038" (0.97 mm) | ETO | Yes | C1887 | 1 |
| CGC6100SBS45 | ConcierGE Guiding Excellence™ | SBS 4.5 | 6F | 100 cm | 0 Side Holes | SBS 4.5 | 0.070" (1.78 mm) | 0.038" (0.97 mm) | ETO | Yes | | 1 |
| CGC6100SBS45SH | ConcierGE Guiding Excellence™ | SBS 4.5 SH | 6F | 100 cm | 2 Side Holes | SBS 4.5 | 0.070" (1.78 mm) | 0.038" (0.97 mm) | ETO | Yes | | 1 |
| CGC6100SBSLAD30 | ConcierGE Guiding Excellence™ | SBSLAD 3.0 | 6F | 100 cm | 0 Side Holes | SBSLAD 3.0 | 0.070" (1.78 mm) | 0.038" (0.97 mm) | ETO | Yes | | 1 |
| CGC6100SBSLAD30SH | ConcierGE Guiding Excellence™ | SBSLAD 3.0 SH | 6F | 100 cm | 2 Side Holes | SBSLAD 3.0 | 0.070" (1.78 mm) | 0.038" (0.97 mm) | ETO | Yes | | 1 |
| CGC6100SBSLAD35 | ConcierGE Guiding Excellence™ | SBSLAD 3.5 | 6F | 100 cm | 0 Side Holes | SBSLAD 3.5 | 0.070" (1.78 mm) | 0.038" (0.97 mm) | ETO | Yes | | 1 |
| CGC6100SBSLAD40 | ConcierGE Guiding Excellence™ | SBSLAD 4.0 | 6F | 100 cm | 0 Side Holes | SBSLAD 4.0 | 0.070" (1.78 mm) | 0.038" (0.97 mm) | ETO | Yes | | 1 |
| CGC6100SBSRCA | ConcierGE Guiding Excellence™ | SBSRCA | 6F | 100 cm | 0 Side Holes | SBSRCA | 0.070" (1.78 mm) | 0.038" (0.97 mm) | ETO | Yes | | 1 |
| CGC6100ULT1 | ConcierGE Guiding Excellence™ | ULT1 | 6F | 100 cm | 0 Side Holes | Ultimate 1 | 0.070" (1.78 mm) | 0.038" (0.97 mm) | ETO | Yes | C1887 | 1 |
| CGC6100ULT2 | ConcierGE Guiding Excellence™ | ULT2 | 6F | 100 cm | 0 Side Holes | Ultimate 2 | 0.070" (1.78 mm) | 0.038" (0.97 mm) | ETO | Yes | C1887 | 1 |
| CGC6100ULT3 | ConcierGE Guiding Excellence™ | ULT3 | 6F | 100 cm | 0 Side Holes | Ultimate 3 | 0.070" (1.78 mm) | 0.038" (0.97 mm) | ETO | Yes | C1887 | 1 |
| CGC6100ULT4-T40 | ConcierGE Guiding Excellence™ | ULT 4-T40 | 6F | 100 cm | 0 Side Holes | Ultimate 4-T40 | 0.070" (1.78 mm) | 0.038" (0.97 mm) | ETO | Yes | C1887 | 1 |
| CGC6100ULT4-T45 | ConcierGE Guiding Excellence™ | ULT 4-T45 | 6F | 100 cm | 0 Side Holes | Ultimate 4-T45 | 0.070" (1.78 mm) | 0.038" (0.97 mm) | ETO | Yes | C1887 | 1 |
| CGC6115AR3 | Concierge® Guiding Catheter | AR 3 | 6F | 115 cm | 0 Side Holes | Amplatz Right 3 | 0.070" (1.78 mm) | 0.038" (0.97 mm) | ETO | Yes | | 1 |
| CGC6115BER | Concierge® Guiding Catheter | BER | 6F | 115 cm | 0 Side Holes | Berenstein | 0.070" (1.78 mm) | 0.038" (0.97 mm) | ETO | Yes | | 1 |
| CGC6115MP1 | Concierge® Guiding Catheter | MP 1 | 6F | 115 cm | 0 Side Holes | Multipurpose 1 | 0.070" (1.78 mm) | 0.038" (0.97 mm) | ETO | Yes | | 1 |
| CGC6115ULT1 | Concierge® Guiding Catheter | ULT1 | 6F | 115 cm | 0 Side Holes | Ultimate 1 | 0.070" (1.78 mm) | 0.038" (0.97 mm) | ETO | Yes | | 1 |
| CGC7100AL1 | ConcierGE Guiding Excellence™ | AL 1 | 7F | 100 cm | 0 Side Holes | Amplatz Left 1 | 0.078" (1.98 mm) | 0.038" (0.97 mm) | ETO | Yes | C1887 | 1 |
| CGC7100AL1SH | ConcierGE Guiding Excellence™ | AL 1 SH | 7F | 100 cm | 2 Side Holes | Amplatz Left 1 | 0.078" (1.98 mm) | 0.038" (0.97 mm) | ETO | Yes | C1887 | 1 |
| CGC7100AL2 | ConcierGE Guiding Excellence™ | AL 2 | 7F | 100 cm | 0 Side Holes | Amplatz Left 2 | 0.078" (1.98 mm) | 0.038" (0.97 mm) | ETO | Yes | C1887 | 1 |
| CGC7100AL2SH | ConcierGE Guiding Excellence™ | AL 2 SH | 7F | 100 cm | 2 Side Holes | Amplatz Left 2 | 0.078" (1.98 mm) | 0.038" (0.97 mm) | ETO | Yes | C1887 | 1 |
| CGC7100AL3 | ConcierGE Guiding Excellence™ | AL 3 | 7F | 100 cm | 0 Side Holes | Amplatz Left 3 | 0.078" (1.98 mm) | 0.038" (0.97 mm) | ETO | Yes | C1887 | 1 |
| CGC7100AL75SH | ConcierGE Guiding Excellence™ | AL .75 SH | 7F | 100 cm | 2 Side Holes | Amplatz Left .75 | 0.078" (1.98 mm) | 0.038" (0.97 mm) | ETO | Yes | | 1 |
| CGC7100AR1 | ConcierGE Guiding Excellence™ | AR 1 | 7F | 100 cm | 0 Side Holes | Amplatz Right 1 | 0.078" (1.98 mm) | 0.038" (0.97 mm) | ETO | Yes | C1887 | 1 |
| CGC7100AR1SH | ConcierGE Guiding Excellence™ | AR 1 SH | 7F | 100 cm | 2 Side Holes | Amplatz Right 1 | 0.078" (1.98 mm) | 0.038" (0.97 mm) | ETO | Yes | C1887 | 1 |
| CGC7100AR2 | ConcierGE Guiding Excellence™ | AR 2 | 7F | 100 cm | 0 Side Holes | Amplatz Right 2 | 0.078" (1.98 mm) | 0.038" (0.97 mm) | ETO | Yes | C1887 | 1 |
| CGC7100AR2SH | ConcierGE Guiding Excellence™ | AR 2 SH | 7F | 100 cm | 2 Side Holes | Amplatz Right 2 | 0.078" (1.98 mm) | 0.038" (0.97 mm) | ETO | Yes | C1887 | 1 |
| CGC7100AR3 | ConcierGE Guiding Excellence™ | AR 3 | 7F | 100 cm | 0 Side Holes | Amplatz Right 3 | 0.078" (1.98 mm) | 0.038" (0.97 mm) | ETO | Yes | C1887 | 1 |
| CGC7100EG | ConcierGE Guiding Excellence™ | EG | 7F | 100 cm | 0 Side Holes | El Gamal | 0.078" (1.98 mm) | 0.038" (0.97 mm) | ETO | Yes | C1887 | 1 |
| CGC7100HS | ConcierGE Guiding Excellence™ | HS | 7F | 100 cm | 0 Side Holes | Hockey Stick | 0.078" (1.98 mm) | 0.038" (0.97 mm) | ETO | Yes | C1887 | 1 |
| CGC7100IM | ConcierGE Guiding Excellence™ | IM | 7F | 100 cm | 0 Side Holes | Internal Mammary | 0.078" (1.98 mm) | 0.038" (0.97 mm) | ETO | Yes | C1887 | 1 |
| CGC7100IMSH | ConcierGE Guiding Excellence™ | IM SH | 7F | 100 cm | 2 Side Holes | Internal Mammary | 0.078" (1.98 mm) | 0.038" (0.97 mm) | ETO | Yes | C1887 | 1 |
| CGC7100JL30 | ConcierGE Guiding Excellence™ | JL 3.0 | 7F | 100 cm | 0 Side Holes | Judkins Left 3.0 | 0.078" (1.98 mm) | 0.038" (0.97 mm) | ETO | Yes | C1887 | 1 |
| CGC7100JL35 | ConcierGE Guiding Excellence™ | JL 3.5 | 7F | 100 cm | 0 Side Holes | Judkins Left 3.5 | 0.078" (1.98 mm) | 0.038" (0.97 mm) | ETO | Yes | C1887 | 1 |
| CGC7100JL35SH | ConcierGE Guiding Excellence™ | JL 3.5 SH | 7F | 100 cm | 2 Side Holes | Judkins Left 3.5 | 0.078" (1.98 mm) | 0.038" (0.97 mm) | ETO | Yes | C1887 | 1 |
| CGC7100JL35ST | ConcierGE Guiding Excellence™ | JL 3.5 ST | 7F | 100 cm | 0 Side Holes | Judkins Left 3.5 (Short Tip) | 0.078" (1.98 mm) | 0.038" (0.97 mm) | ETO | Yes | C1887 | 1 |
| CGC7100JL40 | ConcierGE Guiding Excellence™ | JL 4.0 | 7F | 100 cm | 0 Side Holes | Judkins Left 4.0 | 0.078" (1.98 mm) | 0.038" (0.97 mm) | ETO | Yes | C1887 | 1 |
| CGC7100JL40SH | ConcierGE Guiding Excellence™ | JL 4.0 SH | 7F | 100 cm | 2 Side Holes | Judkins Left 4.0 | 0.078" (1.98 mm) | 0.038" (0.97 mm) | ETO | Yes | C1887 | 1 |
| CGC7100JL40ST | ConcierGE Guiding Excellence™ | JL 4.0 ST | 7F | 100 cm | 0 Side Holes | Judkins Left 4.0 (Short Tip) | 0.078" (1.98 mm) | 0.038" (0.97 mm) | ETO | Yes | C1887 | 1 |
| CGC7100JL45 | ConcierGE Guiding Excellence™ | JL 4.5 | 7F | 100 cm | 0 Side Holes | Judkins Left 4.5 | 0.078" (1.98 mm) | 0.038" (0.97 mm) | ETO | Yes | C1887 | 1 |
| CGC7100JL45SH | ConcierGE Guiding Excellence™ | JL 4.5 SH | 7F | 100 cm | 2 Side Holes | Judkins Left 4.5 | 0.078" (1.98 mm) | 0.038" (0.97 mm) | ETO | Yes | C1887 | 1 |
| CGC7100JL50 | ConcierGE Guiding Excellence™ | JL 5.0 | 7F | 100 cm | 0 Side Holes | Judkins Left 5.0 | 0.078" (1.98 mm) | 0.038" (0.97 mm) | ETO | Yes | C1887 | 1 |
| CGC7100JL50SH | ConcierGE Guiding Excellence™ | JL 5.0 SH | 7F | 100 cm | 2 Side Holes | Judkins Left 5.0 | 0.078" (1.98 mm) | 0.038" (0.97 mm) | ETO | Yes | C1887 | 1 |
| CGC7100JR30 | ConcierGE Guiding Excellence™ | JR 3.0 | 7F | 100 cm | 0 Side Holes | Judkins Right 3.0 | 0.078" (1.98 mm) | 0.038" (0.97 mm) | ETO | Yes | C1887 | 1 |
| CGC7100JR35 | ConcierGE Guiding Excellence™ | JR 3.5 | 7F | 100 cm | 0 Side Holes | Judkins Right 3.5 | 0.078" (1.98 mm) | 0.038" (0.97 mm) | ETO | Yes | C1887 | 1 |
| CGC7100JR35SH | ConcierGE Guiding Excellence™ | JR 3.5 SH | 7F | 100 cm | 2 Side Holes | Judkins Right 3.5 | 0.078" (1.98 mm) | 0.038" (0.97 mm) | ETO | Yes | C1887 | 1 |
| CGC7100JR40 | ConcierGE Guiding Excellence™ | JR 4.0 | 7F | 100 cm | 0 Side Holes | Judkins Right 4.0 | 0.078" (1.98 mm) | 0.038" (0.97 mm) | ETO | Yes | C1887 | 1 |
| CGC7100JR40SH | ConcierGE Guiding Excellence™ | JR 4.0 SH | 7F | 100 cm | 2 Side Holes | Judkins Right 4.0 | 0.078" (1.98 mm) | 0.038" (0.97 mm) | ETO | Yes | C1887 | 1 |
| CGC7100JR50 | ConcierGE Guiding Excellence™ | JR 5.0 | 7F | 100 cm | 0 Side Holes | Judkins Right 5.0 | 0.078" (1.98 mm) | 0.038" (0.97 mm) | ETO | Yes | C1887 | 1 |
| CGC7100JR50SH | ConcierGE Guiding Excellence™ | JR 5.0 SH | 7F | 100 cm | 2 Side Holes | Judkins Right 5.0 | 0.078" (1.98 mm) | 0.038" (0.97 mm) | ETO | Yes | C1887 | 1 |
| CGC7100JR60 | ConcierGE Guiding Excellence™ | JR 6.0 | 7F | 100 cm | 0 Side Holes | Judkins Right 6.0 | 0.078" (1.98 mm) | 0.038" (0.97 mm) | ETO | Yes | C1887 | 1 |
| CGC7100LCB | ConcierGE Guiding Excellence™ | LCB | 7F | 100 cm | 0 Side Holes | Left Coronary Bypass | 0.078" (1.98 mm) | 0.038" (0.97 mm) | ETO | Yes | C1887 | 1 |
| CGC7100LCBSH | ConcierGE Guiding Excellence™ | LCB SH | 7F | 100 cm | 2 Side Holes | Left Coronary Bypass | 0.078" (1.98 mm) | 0.038" (0.97 mm) | ETO | Yes | C1887 | 1 |
| CGC7100MP1 | ConcierGE Guiding Excellence™ | MP 1 | 7F | 100 cm | 0 Side Holes | Multipurpose 1 | 0.078" (1.98 mm) | 0.038" (0.97 mm) | ETO | Yes | C1887 | 1 |
| CGC7100MP1SH | ConcierGE Guiding Excellence™ | MP 1 SH | 7F | 100 cm | 2 Side Holes | Multipurpose 1 | 0.078" (1.98 mm) | 0.038" (0.97 mm) | ETO | Yes | C1887 | 1 |
| CGC7100RCB | ConcierGE Guiding Excellence™ | RCB | 7F | 100 cm | 0 Side Holes | Right Coronary Bypass | 0.078" (1.98 mm) | 0.038" (0.97 mm) | ETO | Yes | C1887 | 1 |
| CGC7100RCBSH | ConcierGE Guiding Excellence™ | RCB SH | 7F | 100 cm | 2 Side Holes | Right Coronary Bypass | 0.078" (1.98 mm) | 0.038" (0.97 mm) | ETO | Yes | C1887 | 1 |
| CGC7100RDC | ConcierGE Guiding Excellence™ | RDC | 7F | 100 cm | 0 Side Holes | Renal Double Curve | 0.078" (1.98 mm) | 0.038" (0.97 mm) | ETO | Yes | C1887 | 1 |
| CGC7100SBS30 | ConcierGE Guiding Excellence™ | SBS 3.0 | 7F | 100 cm | 0 Side Holes | SBS 3.0 | 0.078" (1.98 mm) | 0.038" (0.97 mm) | ETO | Yes | C1887 | 1 |
| CGC7100SBS30SH | ConcierGE Guiding Excellence™ | SBS 3.0 SH | 7F | 100 cm | 2 Side Holes | SBS 3.0 | 0.078" (1.98 mm) | 0.038" (0.97 mm) | ETO | Yes | C1887 | 1 |
| CGC7100SBS35 | ConcierGE Guiding Excellence™ | SBS 3.5 | 7F | 100 cm | 0 Side Holes | SBS 3.5 | 0.078" (1.98 mm) | 0.038" (0.97 mm) | ETO | Yes | C1887 | 1 |
| CGC7100SBS35-M | ConcierGE Guiding Excellence™ | SBS 3.5-M | 7F | 100 cm | 0 Side Holes | SBS 3.5 (Mod) | 0.078" (1.98 mm) | 0.038" (0.97 mm) | ETO | Yes | C1887 | 1 |
| CGC7100SBS35-MSH | ConcierGE Guiding Excellence™ | SBS 3.5-M SH | 7F | 100 cm | 2 Side Holes | SBS 3.5 (Mod) | 0.078" (1.98 mm) | 0.038" (0.97 mm) | ETO | Yes | C1887 | 1 |
| CGC7100SBS35SH | ConcierGE Guiding Excellence™ | SBS 3.5 SH | 7F | 100 cm | 2 Side Holes | SBS 3.5 | 0.078" (1.98 mm) | 0.038" (0.97 mm) | ETO | Yes | C1887 | 1 |
| CGC7100SBS375-M | ConcierGE Guiding Excellence™ | SBS 3.75-M | 7F | 100 cm | 0 Side Holes | SBS 3.75 (Mod) | 0.078" (1.98 mm) | 0.038" (0.97 mm) | ETO | Yes | C1887 | 1 |
| CGC7100SBS40 | ConcierGE Guiding Excellence™ | SBS 4.0 | 7F | 100 cm | 0 Side Holes | SBS 4.0 | 0.078" (1.98 mm) | 0.038" (0.97 mm) | ETO | Yes | C1887 | 1 |
| CGC7100SBS40-M | ConcierGE Guiding Excellence™ | SBS 4.0-M | 7F | 100 cm | 0 Side Holes | SBS 4.0 (Mod) | 0.078" (1.98 mm) | 0.038" (0.97 mm) | ETO | Yes | C1887 | 1 |
| CGC7100SBS40-MSH | ConcierGE Guiding Excellence™ | SBS 4.0-M SH | 7F | 100 cm | 2 Side Holes | SBS 4.0 (Mod) | 0.078" (1.98 mm) | 0.038" (0.97 mm) | ETO | Yes | C1887 | 1 |
| CGC7100SBS40SH | ConcierGE Guiding Excellence™ | SBS 4.0 SH | 7F | 100 cm | 2 Side Holes | SBS 4.0 | 0.078" (1.98 mm) | 0.038" (0.97 mm) | ETO | Yes | C1887 | 1 |
| CGC7100SBSLAD35 | ConcierGE Guiding Excellence™ | SBSLAD 3.5 | 7F | 100 cm | 0 Side Holes | SBSLAD 3.5 | 0.078" (1.98 mm) | 0.038" (0.97 mm) | ETO | Yes | | 1 |
| CGC7100SBSLAD35SH | ConcierGE Guiding Excellence™ | SBSLAD 3.5 SH | 7F | 100 cm | 2 Side Holes | SBSLAD 3.5 | 0.078" (1.98 mm) | 0.038" (0.97 mm) | ETO | Yes | | 1 |
| CGC7100SBSRCA | ConcierGE Guiding Excellence™ | SBSRCA | 7F | 100 cm | 0 Side Holes | SBSRCA | 0.078" (1.98 mm) | 0.038" (0.97 mm) | ETO | Yes | | 1 |
| CGC7100SBSRCASH | ConcierGE Guiding Excellence™ | SBSRCA SH | 7F | 100 cm | 2 Side Holes | SBSRCA | 0.078" (1.98 mm) | 0.038" (0.97 mm) | ETO | Yes | | 1 |
| CGC7100ULT1 | ConcierGE Guiding Excellence™ | ULT1 | 7F | 100 cm | 0 Side Holes | Ultimate 1 | 0.078" (1.98 mm) | 0.038" (0.97 mm) | ETO | Yes | C1887 | 1 |
| CGC7100ULT2 | ConcierGE Guiding Excellence™ | ULT2 | 7F | 100 cm | 0 Side Holes | Ultimate 2 | 0.078" (1.98 mm) | 0.038" (0.97 mm) | ETO | Yes | C1887 | 1 |
| CGC7100ULT3 | ConcierGE Guiding Excellence™ | ULT3 | 7F | 100 cm | 0 Side Holes | Ultimate 3 | 0.078" (1.98 mm) | 0.038" (0.97 mm) | ETO | Yes | C1887 | 1 |
| CGC7100ULT4-T40 | ConcierGE Guiding Excellence™ | ULT 4-T40 | 7F | 100 cm | 0 Side Holes | Ultimate 4-T40 | 0.078" (1.98 mm) | 0.038" (0.97 mm) | ETO | Yes | C1887 | 1 |
| CGC7100ULT4-T45 | ConcierGE Guiding Excellence™ | ULT 4-T45 | 7F | 100 cm | 0 Side Holes | Ultimate 4-T45 | 0.078" (1.98 mm) | 0.038" (0.97 mm) | ETO | Yes | C1887 | 1 |
| CGC8100AL1 | ConcierGE Guiding Excellence™ | AL 1 | 8F | 100 cm | 0 Side Holes | Amplatz Left 1 | 0.088" (2.24 mm) | 0.038" (0.97 mm) | ETO | Yes | C1887 | 1 |
| CGC8100AL1SH | ConcierGE Guiding Excellence™ | AL 1 SH | 8F | 100 cm | 2 Side Holes | Amplatz Left 1 | 0.088" (2.24 mm) | 0.038" (0.97 mm) | ETO | Yes | C1887 | 1 |
| CGC8100AL2 | ConcierGE Guiding Excellence™ | AL 2 | 8F | 100 cm | 0 Side Holes | Amplatz Left 2 | 0.088" (2.24 mm) | 0.038" (0.97 mm) | ETO | Yes | C1887 | 1 |
| CGC8100AL2SH | ConcierGE Guiding Excellence™ | AL 2 SH | 8F | 100 cm | 2 Side Holes | Amplatz Left 2 | 0.088" (2.24 mm) | 0.038" (0.97 mm) | ETO | Yes | C1887 | 1 |
| CGC8100AL3 | ConcierGE Guiding Excellence™ | AL 3 | 8F | 100 cm | 0 Side Holes | Amplatz Left 3 | 0.088" (2.24 mm) | 0.038" (0.97 mm) | ETO | Yes | C1887 | 1 |
| CGC8100AR1 | ConcierGE Guiding Excellence™ | AR 1 | 8F | 100 cm | 0 Side Holes | Amplatz Right 1 | 0.088" (2.24 mm) | 0.038" (0.97 mm) | ETO | Yes | C1887 | 1 |
| CGC8100AR1SH | ConcierGE Guiding Excellence™ | AR 1 SH | 8F | 100 cm | 2 Side Holes | Amplatz Right 1 | 0.088" (2.24 mm) | 0.038" (0.97 mm) | ETO | Yes | C1887 | 1 |
| CGC8100AR2 | ConcierGE Guiding Excellence™ | AR 2 | 8F | 100 cm | 0 Side Holes | Amplatz Right 2 | 0.088" (2.24 mm) | 0.038" (0.97 mm) | ETO | Yes | C1887 | 1 |
| CGC8100AR2SH | ConcierGE Guiding Excellence™ | AR 2 SH | 8F | 100 cm | 2 Side Holes | Amplatz Right 2 | 0.088" (2.24 mm) | 0.038" (0.97 mm) | ETO | Yes | C1887 | 1 |
| CGC8100AR3 | ConcierGE Guiding Excellence™ | AR 3 | 8F | 100 cm | 0 Side Holes | Amplatz Right 3 | 0.088" (2.24 mm) | 0.038" (0.97 mm) | ETO | Yes | C1887 | 1 |
| CGC8100EG | ConcierGE Guiding Excellence™ | EG | 8F | 100 cm | 0 Side Holes | El Gamal | 0.088" (2.24 mm) | 0.038" (0.97 mm) | ETO | Yes | C1887 | 1 |
| CGC8100HS | ConcierGE Guiding Excellence™ | HS | 8F | 100 cm | 0 Side Holes | Hockey Stick | 0.088" (2.24 mm) | 0.038" (0.97 mm) | ETO | Yes | C1887 | 1 |
| CGC8100IM | ConcierGE Guiding Excellence™ | IM | 8F | 100 cm | 0 Side Holes | Internal Mammary | 0.088" (2.24 mm) | 0.038" (0.97 mm) | ETO | Yes | C1887 | 1 |
| CGC8100IMSH | ConcierGE Guiding Excellence™ | IM SH | 8F | 100 cm | 2 Side Holes | Internal Mammary | 0.088" (2.24 mm) | 0.038" (0.97 mm) | ETO | Yes | C1887 | 1 |
| CGC8100JL30 | ConcierGE Guiding Excellence™ | JL 3.0 | 8F | 100 cm | 0 Side Holes | Judkins Left 3.0 | 0.088" (2.24 mm) | 0.038" (0.97 mm) | ETO | Yes | C1887 | 1 |
| CGC8100JL35 | ConcierGE Guiding Excellence™ | JL 3.5 | 8F | 100 cm | 0 Side Holes | Judkins Left 3.5 | 0.088" (2.24 mm) | 0.038" (0.97 mm) | ETO | Yes | C1887 | 1 |
| CGC8100JL35SH | ConcierGE Guiding Excellence™ | JL 3.5 SH | 8F | 100 cm | 2 Side Holes | Judkins Left 3.5 | 0.088" (2.24 mm) | 0.038" (0.97 mm) | ETO | Yes | C1887 | 1 |
| CGC8100JL35ST | ConcierGE Guiding Excellence™ | JL 3.5 ST | 8F | 100 cm | 0 Side Holes | Judkins Left 3.5 (Short Tip) | 0.088" (2.24 mm) | 0.038" (0.97 mm) | ETO | Yes | C1887 | 1 |
| CGC8100JL40 | ConcierGE Guiding Excellence™ | JL 4.0 | 8F | 100 cm | 0 Side Holes | Judkins Left 4.0 | 0.088" (2.24 mm) | 0.038" (0.97 mm) | ETO | Yes | C1887 | 1 |
| CGC8100JL40SH | ConcierGE Guiding Excellence™ | JL 4.0 SH | 8F | 100 cm | 2 Side Holes | Judkins Left 4.0 | 0.088" (2.24 mm) | 0.038" (0.97 mm) | ETO | Yes | C1887 | 1 |
| CGC8100JL40ST | ConcierGE Guiding Excellence™ | JL 4.0 ST | 8F | 100 cm | 0 Side Holes | Judkins Left 4.0 (Short Tip) | 0.088" (2.24 mm) | 0.038" (0.97 mm) | ETO | Yes | C1887 | 1 |
| CGC8100JL45 | ConcierGE Guiding Excellence™ | JL 4.5 | 8F | 100 cm | 0 Side Holes | Judkins Left 4.5 | 0.088" (2.24 mm) | 0.038" (0.97 mm) | ETO | Yes | C1887 | 1 |
| CGC8100JL45SH | ConcierGE Guiding Excellence™ | JL 4.5 SH | 8F | 100 cm | 2 Side Holes | Judkins Left 4.5 | 0.088" (2.24 mm) | 0.038" (0.97 mm) | ETO | Yes | C1887 | 1 |
| CGC8100JL50 | ConcierGE Guiding Excellence™ | JL 5.0 | 8F | 100 cm | 0 Side Holes | Judkins Left 5.0 | 0.088" (2.24 mm) | 0.038" (0.97 mm) | ETO | Yes | C1887 | 1 |
| CGC8100JL50SH | ConcierGE Guiding Excellence™ | JL 5.0 SH | 8F | 100 cm | 2 Side Holes | Judkins Left 5.0 | 0.088" (2.24 mm) | 0.038" (0.97 mm) | ETO | Yes | C1887 | 1 |
| CGC8100JR30 | ConcierGE Guiding Excellence™ | JR 3.0 | 8F | 100 cm | 0 Side Holes | Judkins Right 3.0 | 0.088" (2.24 mm) | 0.038" (0.97 mm) | ETO | Yes | C1887 | 1 |
| CGC8100JR35 | ConcierGE Guiding Excellence™ | JR 3.5 | 8F | 100 cm | 0 Side Holes | Judkins Right 3.5 | 0.088" (2.24 mm) | 0.038" (0.97 mm) | ETO | Yes | C1887 | 1 |
| CGC8100JR35SH | ConcierGE Guiding Excellence™ | JR 3.5 SH | 8F | 100 cm | 2 Side Holes | Judkins Right 3.5 | 0.088" (2.24 mm) | 0.038" (0.97 mm) | ETO | Yes | C1887 | 1 |
| CGC8100JR40 | ConcierGE Guiding Excellence™ | JR 4.0 | 8F | 100 cm | 0 Side Holes | Judkins Right 4.0 | 0.088" (2.24 mm) | 0.038" (0.97 mm) | ETO | Yes | C1887 | 1 |
| CGC8100JR40SH | ConcierGE Guiding Excellence™ | JR 4.0 SH | 8F | 100 cm | 2 Side Holes | Judkins Right 4.0 | 0.088" (2.24 mm) | 0.038" (0.97 mm) | ETO | Yes | C1887 | 1 |
| CGC8100JR50 | ConcierGE Guiding Excellence™ | JR 5.0 | 8F | 100 cm | 0 Side Holes | Judkins Right 5.0 | 0.088" (2.24 mm) | 0.038" (0.97 mm) | ETO | Yes | C1887 | 1 |
| CGC8100JR50SH | ConcierGE Guiding Excellence™ | JR 5.0 SH | 8F | 100 cm | 2 Side Holes | Judkins Right 5.0 | 0.088" (2.24 mm) | 0.038" (0.97 mm) | ETO | Yes | C1887 | 1 |
| CGC8100JR60 | ConcierGE Guiding Excellence™ | JR 6.0 | 8F | 100 cm | 0 Side Holes | Judkins Right 6.0 | 0.088" (2.24 mm) | 0.038" (0.97 mm) | ETO | Yes | C1887 | 1 |
| CGC8100LCB | ConcierGE Guiding Excellence™ | LCB | 8F | 100 cm | 0 Side Holes | Left Coronary Bypass | 0.088" (2.24 mm) | 0.038" (0.97 mm) | ETO | Yes | C1887 | 1 |
| CGC8100LCBSH | ConcierGE Guiding Excellence™ | LCB SH | 8F | 100 cm | 2 Side Holes | Left Coronary Bypass | 0.088" (2.24 mm) | 0.038" (0.97 mm) | ETO | Yes | C1887 | 1 |
| CGC8100MP1 | ConcierGE Guiding Excellence™ | MP 1 | 8F | 100 cm | 0 Side Holes | Multipurpose 1 | 0.088" (2.24 mm) | 0.038" (0.97 mm) | ETO | Yes | C1887 | 1 |
| CGC8100MP1SH | ConcierGE Guiding Excellence™ | MP 1 SH | 8F | 100 cm | 2 Side Holes | Multipurpose 1 | 0.088" (2.24 mm) | 0.038" (0.97 mm) | ETO | Yes | C1887 | 1 |
| CGC8100RCB | ConcierGE Guiding Excellence™ | RCB | 8F | 100 cm | 0 Side Holes | Right Coronary Bypass | 0.088" (2.24 mm) | 0.038" (0.97 mm) | ETO | Yes | C1887 | 1 |
| CGC8100RCBSH | ConcierGE Guiding Excellence™ | RCB SH | 8F | 100 cm | 2 Side Holes | Right Coronary Bypass | 0.088" (2.24 mm) | 0.038" (0.97 mm) | ETO | Yes | C1887 | 1 |
| CGC8100SBS30 | ConcierGE Guiding Excellence™ | SBS 3.0 | 8F | 100 cm | 0 Side Holes | SBS 3.0 | 0.088" (2.24 mm) | 0.038" (0.97 mm) | ETO | Yes | C1887 | 1 |
| CGC8100SBS30SH | ConcierGE Guiding Excellence™ | SBS 3.0 SH | 8F | 100 cm | 2 Side Holes | SBS 3.0 | 0.088" (2.24 mm) | 0.038" (0.97 mm) | ETO | Yes | C1887 | 1 |
| CGC8100SBS35 | ConcierGE Guiding Excellence™ | SBS 3.5 | 8F | 100 cm | 0 Side Holes | SBS 3.5 | 0.088" (2.24 mm) | 0.038" (0.97 mm) | ETO | Yes | C1887 | 1 |
| CGC8100SBS35-M | ConcierGE Guiding Excellence™ | SBS 3.5-M | 8F | 100 cm | 0 Side Holes | SBS 3.5 (Mod) | 0.088" (2.24 mm) | 0.038" (0.97 mm) | ETO | Yes | C1887 | 1 |
| CGC8100SBS35-MSH | ConcierGE Guiding Excellence™ | SBS 3.5-M SH | 8F | 100 cm | 2 Side Holes | SBS 3.5 (Mod) | 0.088" (2.24 mm) | 0.038" (0.97 mm) | ETO | Yes | C1887 | 1 |
| CGC8100SBS35SH | ConcierGE Guiding Excellence™ | SBS 3.5 SH | 8F | 100 cm | 2 Side Holes | SBS 3.5 | 0.088" (2.24 mm) | 0.038" (0.97 mm) | ETO | Yes | C1887 | 1 |
| CGC8100SBS375-M | ConcierGE Guiding Excellence™ | SBS 3.75-M | 8F | 100 cm | 0 Side Holes | SBS 3.75 (Mod) | 0.088" (2.24 mm) | 0.038" (0.97 mm) | ETO | Yes | C1887 | 1 |
| CGC8100SBS40 | ConcierGE Guiding Excellence™ | SBS 4.0 | 8F | 100 cm | 0 Side Holes | SBS 4.0 | 0.088" (2.24 mm) | 0.038" (0.97 mm) | ETO | Yes | C1887 | 1 |
| CGC8100SBS40-M | ConcierGE Guiding Excellence™ | SBS 4.0-M | 8F | 100 cm | 0 Side Holes | SBS 4.0 (Mod) | 0.088" (2.24 mm) | 0.038" (0.97 mm) | ETO | Yes | C1887 | 1 |
| CGC8100SBS40-MSH | ConcierGE Guiding Excellence™ | SBS 4.0-M SH | 8F | 100 cm | 2 Side Holes | SBS 4.0 (Mod) | 0.088" (2.24 mm) | 0.038" (0.97 mm) | ETO | Yes | C1887 | 1 |
| CGC8100SBS40SH | ConcierGE Guiding Excellence™ | SBS 4.0 SH | 8F | 100 cm | 2 Side Holes | SBS 4.0 | 0.088" (2.24 mm) | 0.038" (0.97 mm) | ETO | Yes | C1887 | 1 |
| CGC8100ULT1 | ConcierGE Guiding Excellence™ | ULT1 | 8F | 100 cm | 0 Side Holes | Ultimate 1 | 0.088" (2.24 mm) | 0.038" (0.97 mm) | ETO | Yes | C1887 | 1 |
| CGC8100ULT2 | ConcierGE Guiding Excellence™ | ULT2 | 8F | 100 cm | 0 Side Holes | Ultimate 2 | 0.088" (2.24 mm) | 0.038" (0.97 mm) | ETO | Yes | C1887 | 1 |