Recursos e Benefícios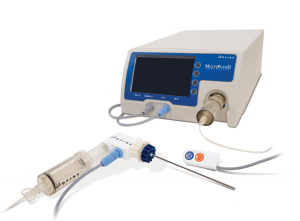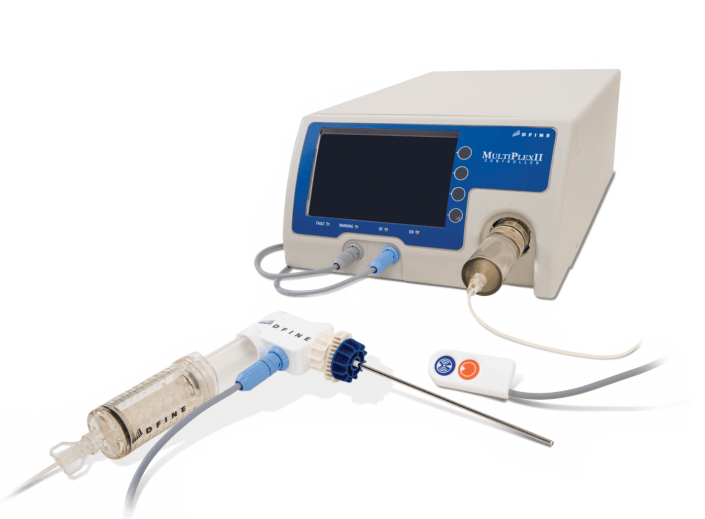 O Sistema StabiliT® combina uma abordagem direcionada e cimento de alta viscosidade para tratar fraturas patológicas e minimizar a extravasamento na vértebra.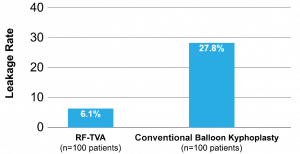 Minimiza extravasamento
A criação de cavidades preferenciais, liberação controlada, e RF modulada consistente do cimento ósseo de alta viscosidade ajudam a minimizar o potencial para extravasamento.1
Maximiza interdigitação
O Osteótomo PowerCURVE® articulado minimiza a destruição de osso esponjoso intacto e maximiza a interdigitação para assegurar vértebras enchidas de maneira ideal e mecanicamente sãs.2
Reduz a exposição
O Sistema StabiliT® permite aos utilizadores estarem a 6 m (20 pés) de distância de fontes radiográficas e reduzir a exposição à radiação.
Referências
Pflugmacher R, Bornemann R, Koch EM, Randau TM, Muller-Broich J, Lehmann U, Weber O, Wirtz DC, Kabir K. Comparison of Clinical and Radiological Data in the Treatment of Patients with Osteoporotic Vertebral Compression Fractures using Radiofrequency Kyphoplasty or Balloon Kyphoplasty. Z Orthop Unfall. 2012 Feb;150(1):56-61 PubMed: 21993914
Dalton, B. E., Kohm AC, Miller LE, Block JE, Poser RD. Radiofrequency-targeted vertebral augmentation versus traditional balloon kyphoplasty: radiographic and morphologic outcomes of an ex vivo biomechanical pilot study. Clinical Interventions in Aging. 2012 7:525-31 PubMed: 23204845
Indicações de uso
O Sistema de Aumento Vertebral StabiliT® destina-se à liberação percutânea do Cimento Ósseo StabiliT® ER2. O Cimento Ósseo StabiliT® ER2 é indicado para o tratamento de fraturas patológicas das vértebras através de um procedimento de vertebroplastia ou cifoplastia. Podem ocorrer dolorosas fraturas por compressão vertebral devido a osteoporose, lesões benignas (hemangioma) e lesões malignas (cancros metastáticos, mieloma).
Riscos e Contra-indicações
Existem riscos associados ao procedimento StabiliT®, incluindo complicações graves, tal como na maioria dos procedimentos cirúrgicos. Consulte as Instruções de Uso do sistema para obter informações completas sobre os riscos, contra-indicações, avisos e precauções. Consulte as Instruções de Uso para obter informações completas sobre os eventos adversos relacionados com o Sistema.