Now Available: PreludeSYNC DISTAL™ — Innovative, Secure, Effective
Providing advantages for both the patient and the operator, the PreludeSYNC DISTAL assists in achieving vascular hemostasis with clear, unobstructed site visibility. Discover the benefits of Merit's first-to-market distal radial compression device...
ClariVein® - Now Available From Merit
ClariVein is designed to benefit patients and physicians alike. Fully disposable, the minimally invasive and quick procedure times can allow patients a faster return to normal activities...
DualCap® — Infection Prevention
By Nurses, For Nurses
Did you know "...one in 25 hospital patients has at least one healthcare associated infection (HAI), resulting in thousands of lives lost and billions of healthcare dollars spent - each year"? DualCap, built by nurses for nurses, provides rapid and ongoing protection for patients...
Enhanced Flexibility with Interventional CRT
Interventional CRT provides the tools and solutions needed to reduce implantation times, gain easier access to the target vessel, and improve chances for successful CRT implantation...
PreludeIDEAL™ — Explore the Benefits of Thinner and Stronger
With the same outer diameter as the leading competitor, but larger sheath body inner diameter, the PreludeIDEAL gives you the benefits of radial access with increased compression and kink resistance...
Supporting Your Drainage Needs — Every Step of the Way
Merit's broad offering of drainage catheters facilitate short-term and long-term therapies for your patients...
Discover Merit's Commitment to Kidney Health
Committed to dialysis and providing the access critical to successful dialysis procedures, Merit supports clinicians by providing physician training via ThinkAccess, as well as a broad array of innovative access products for dialysis treatment...
Now Available: RadialFlo™ — Control Creates Confidence
Engineered for peripheral access to the arterial system, the RadialFLO's advanced features enable clinicians to gather hemodynamic data, helping to improve patient care. Discover this first-step device, available now...
Matching Your Patient's Anatomy with Interventional CRT
The unique curve of the Coronary Sinus Guide (CSG) helps you match your patient's anatomy. Using the braided core inner catheter, this can be advanced as needed to create variable curves reducing the number of sheaths needed to facilitate a successful implantation...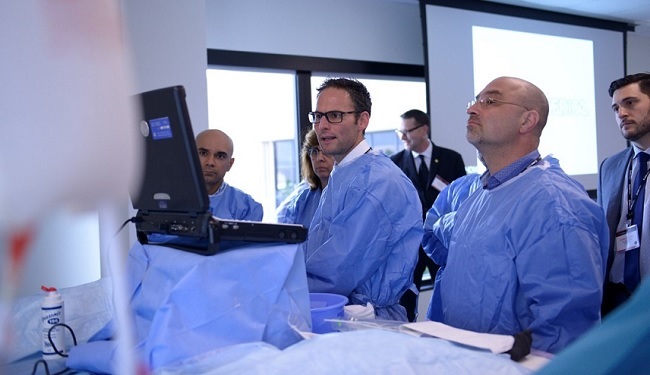 Education & Events With Merit
Will you join us at our upcoming education event?
•

  Hands-On & In-Booth Presentations @ HRS | San Francisco, CA | May 8-11, 2019
•

  ThinkRadial Intervention Course | Miami, FL | June 7-8, 2019
•

  GEST | New York City, NY | May 9-12, 2019
•

  Education Opportunities for IC's | Various Locations
•

  Dialysis Access Fellows Boot Camp | Orangeburg, SC | Apr 8-10, 2019
•

  ThinkDialysis Access | Pittsburgh, PA | Apr 12, 2019
•

  VASA | Houston, TX | May 10-11, 2019
•

  NTI | Orlando, FL | May 20-23, 2019
•

  Education Opportunities for Critical Care Nurses | "Hello Infection, Meet Prevention" | On-Demand Webinar
•

  Education Opportunities for Electrophysiologists
•

  ThinkInterventionalCRT | Washington DC | May 5-6, 2019
•

  Think iCRT Fellows Program | San Francisco, CA | May 7, 2019
Tell Us About Yourself

What's your specialty? Help us make sure we get the right information and news to you... Tell Us More >