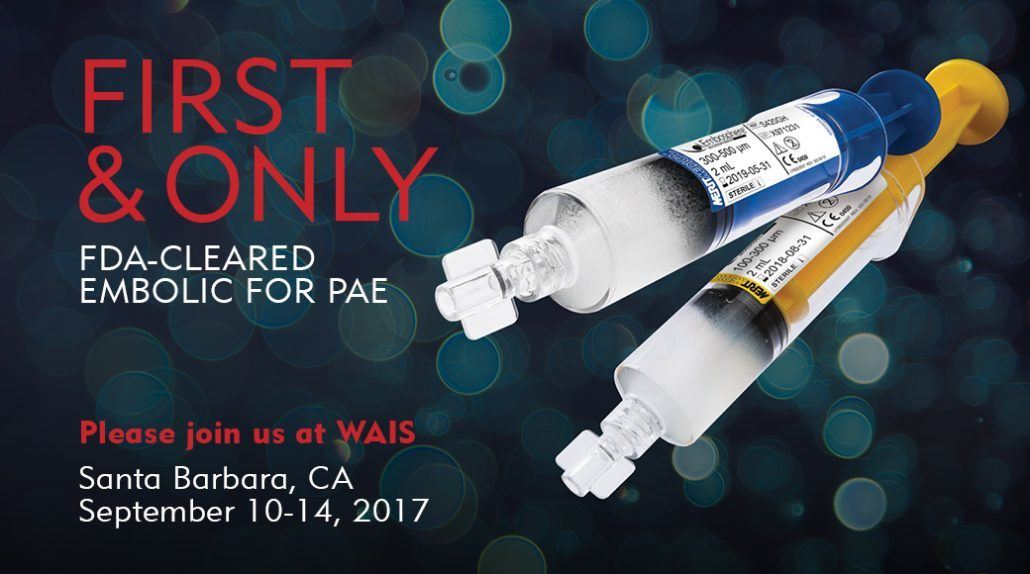 Visit the Merit Medical booth at WAIS September 11-14
Explore Our PAE Portfolio
At WAIS, Merit will showcase its full PAE procedural solution with products from set-up and access through to hemostasis and including the first and only embolotherapy product with clearance to treat symptomatic BPH via prostatic artery embolization (PAE). These tools are also available in convenient packs and with bundled options.

PAE Physician Training
Come learn about the Merit ThinkPAE™ educational course, with taped cases, tips for microcatheter manipulation through difficult anatomy from different access points (transradial and femoral), and hands-on training with state-of-the-art simulation. The course is led by one of the world's leading experts in PAE, Dr. Shivank Bhatia. 2018 dates were recently announced.
Pathologies of the Vertebrae
Merit's spine products for the treatment of vertebral compression fractures and metastatic spinal tumors will also be available during WAIS, including the Star Tumor Ablation System.

Interventional Spine Physician Training
Learn about available courses to train in Interventional Spine procedures and techniques. At Merit's Think Interventional Spine course, you can learn the demographics, diagnoses and most current clinical evidence regarding minimally invasive procedures for the treatment of pathologic vertebral fractures and spine tumor ablation. The course includes didactic presentations followed by hands-on training with anatomic spine models, as well as cadavers under the guidance of a C-arm.