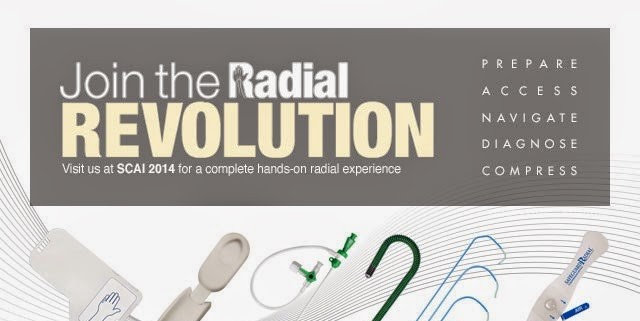 Attendees were offered hands-on demonstrations of our radial products at the Society for Cardiovascular Angiography and Interventions (SCAI) meeting last week in Las Vegas. We exhibited several products supporting transradial access–the Rad Board® radial arm board and accessories, radial catheters, and the Safeguard Radial™ radial closure device–that generated lots of interest at the booth.
STREAMLINE SET UP FOR RADIAL PROCEDURES
With dedicated, radial-specific arm boards and accessories, cath lab personnel don't need to use towels to obtain correct arm positioning. The reusable Rad Board fits all cath lab and radiology procedure tables. Visitors at the booth were surprised to learn that there is a section of Xenolite TB embedded in the Rad Board that helps to reduce scatter radiation exposure. See Radiation Scatter Survey Results.
RADIAL-SPECIFIC CATHETERS
We had a vascular model that attendees could use for a hands-on demonstration of our Performa Ultimate™ line of catheters. Merit also has the MIV™ radial ventriculogram pigtail catheter that is designed to angle toward the left coronary cusp to facilitate transradial access.
HEMOSTASIS OF THE RADIAL ARTERY
We demonstrated the Safeguard Radial pressure assisted device by putting it on some attendees. As a result, they learned firsthand how comfortable and convenient it is to get adjustable compression of the radial puncture site.
Attendees at SCAI this year were excited to learn about Merit's new Think Radial training courses and enjoyed the hands-on demonstrations of our radial-specific products. For more information on our radial product portfolio or upcoming training courses, Contact Us.
Chan Ream
Product Manager