Merit WRAPSODY™ Cell-Impermeable Endoprosthesis - Clinical Data
— FIRST IN HUMAN STUDY —
12-MONTH PUBLISHED SAFETY & PERFORMANCE RESULTS
RESULTS
| SAFETY | n/N (%) | SUMMARY OF EVENTS |
| --- | --- | --- |
| 30-Day Freedom from Safety Events | 45/46 (97.8%) | Thrombosis of access circuit – DMC/CEC adjudicated as not device related |
| Device-related AEs | 1 | Thrombosed fistula – Adjudicated as possibly device-related, access not salvageable so no imaging to assess relatedness |
Target Lesion Primary Patency
| TLPP | AVF PERIPHERAL | AVG PERIPHERAL | AVF ANASTOMOSIS | AVF/AVG CENTRAL | TOTAL |
| --- | --- | --- | --- | --- | --- |
| 6 Month | 16/16 (100%) | 9/10 (90%) | 8/8 (100%) | 9/9 (100%) | 42/43 (97.7%) |
| 12 Month | 11/14 (78.6%) | 6/7 (85.7%) | 7/9 (77.8%) | 9/9 (100%) | 33/39 (84.6%) |
Access Circuit Primary Patency
| ACPP | AVF PERIPHERAL | AVG PERIPHERAL | AVG ANASTOMOSIS | AVF/AVG CENTRAL | TOTAL |
| --- | --- | --- | --- | --- | --- |
| 6 Month | 13/16 (81.3%) | 9/10 (90%) | 8/8 (100%) | 8/11 (72.7%) | 38/45 (84.4%) |
| 12 Month | 10/15 (66.7%) | 7/10 (70%) | 5/8 (62.5%) | 7/11 (63.6%) | 29/44 (65.9%) |
STUDY DETAILS
MR. JAMES GILBERT
Principal Investigator
Consultant Transplant & Access Surgeon
Oxford University Hospitals (United Kingdom)
DESIGN
PURPOSE
SUBJECT POPULATION
PRIMARY STUDY OBJECTIVES
FOLLOW-UP
• Prospective
• 3 Centre
• Single arm
Safety & effectiveness of WRAPSODY in treatment of stenosis or occlusion within dialysis access circuit
46 Haemodiaylsis patients
• AV fistula (AVF)
• AV graft (AVG)

Clinical relevant stenosis or obstruction (≥ 50%) without additional thrombus or 2° lesions

Safety: Proportion without any localised or systemic safety events through 30 days affecting the access or venous outflow circuit and resulted in surgery, hospitalisation, or death

Effectiveness: Proportion with TLPP at 30 days

30 Days, 3 Months, 6 Months & 12 Months

Independent DMC/CEC adjudicated
• Reinterventions
• device/procedure-relatedness for adverse events
CONCLUSIONS1
"Study device can safely and effectively treat stenoses in the peripheral outflow and central veins of AV access circuits."
"6- and 12-month TLPP and ACPP rates were unexpectedly high."
"While needing further confirmation, the study device's design may be a contributing factor in limiting restenosis."
"This degree of patency preservation should reduce revision frequency and access abandonment rates, leading to less hospitalisation and lower healthcare costs."
"Additional follow-up in larger RCTs is needed to verify these results."
NEXT STEPS
Wrapsody WAVE Study (NCT04540302)

Multi-Cohort, Multi-Centre trial
AVF peripheral: RCT, N = 244, 1:1 vs PTA
AVF/AVG central: RCT, N = 120, 1:1 vs PTA
AVG venous anastomosis: PG, N = 113

Global WRAP Registry

Real world clinical data
Up to 50 centres to participate
Up to 500 patients to be enrolled
VIDEO HIGHLIGHT
Prospective First in Man Study of the Merit WRAPSODY Endoprosthesis
for the Treatment of Haemodialysis Access Circuit Stenosis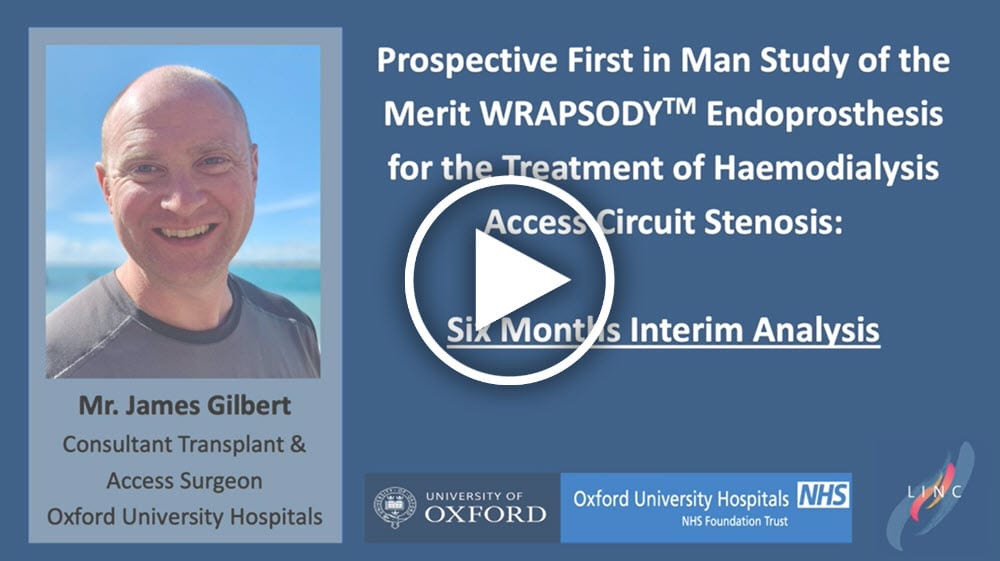 This product is intended for sale and/or use in various regions outside of the United States of America, for use in haemodialysis patients for the treatment of stenosis or occlusion within the dialysis outflow circuit of an arteriovenous (AV) fistula or AV graft. This product is not approved, cleared or available for sale or use in the United States, and may not be approved, cleared or available for sale or use in other countries. Before using any product, refer to the Instructions for Use (IFU) for indications, contraindications, warnings, precautions, and directions for use.
Publication References
Gilbert J, et al.; CardioVascular and Interventional Radiology (2021). https://doi.org/10.1007/s00270-021-02953-8
Falk A, Maya ID, Yevzlin AS; RESCUE investigators. A prospective, randomized study of an expanded polytetrafluoroethylene stent graft versus balloon angioplasty for in-stent restenosis in arteriovenous grafts and fistulae: two-year results of the RESCUE study. J Vasc Interv Radiol. 2016;27:1465-1476
Vesely T, DaVanzo W, Behrend T, et al. Balloon angioplasty versus Viabahn stent graft for treatment of failing or thrombosed prosthetic hemodialysis grafts. J Vasc Surg. 2016;64:1400-1410.e1.
W. L. Gore & Associates Inc. Viabahn Endoprosthesis Instructions For Use. January 2021 Reference 20023402
Bard Peripheral Vascular. Covera vascular covered stent instructions for use. Rev.4 / 08-18. http://www.bardpv.com/eifu/uploads/BAWB05872R4-Covera-Vascular-Covered-Stent-IFU.pdf. Accessed October 10, 2021.