I Am Merit: Linda Sigvardt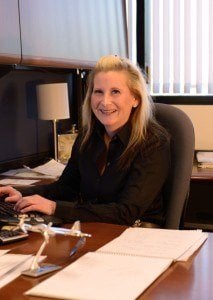 The story behind Merit's Travel Department
I've worked in the travel industry for over 30 years. It could have been my love of airplanes or the desire to experience exotic cultures in remote countries that drove me to work in the travel industry. I've always known my place would be in corporate travel sphere. My involvement with Merit started over 15 years ago, first as account manager with Travel Zone and as they were sold, I moved to Hess Travel and Merit followed. Then Fred approached me with a job offer to manage Merit's travel internally. I've been at Merit for 2 ½ years now and have seen significant changes and major improvements with the value Merit receives with its travel arrangements.
The one-woman travel agency
When I started working for Merit, Fred gave me three main directives. The first directive was to establish a duty of care plan, which ensures the safety of all Merit employees while traveling. The duty of care is one of the most important areas of my work. We want to ensure that every Merit employee is accounted for in any situation. The second directive was to establish beneficial vendor relationships, which provide Merit with the lowest possible rates and best customer service. Merit has negotiated rates with several airlines, car companies, hotels and AAA to improve Merit's savings globally. Sometimes it just comes down to waivers and favors and Merit's travel department have the privileges and benefits available. The third directive was to organize and establish travel policies for Merit employees. The guidelines we've established in the travel department are focused on providing Merit employees with the most seamless travel experience possible. These guidelines also ensure Merit with the lowest possible travel costs and provide the traveler with our duty of care.
My time to travel
I really do love to travel and have been to 11 countries and 30 states.  In 2014, I had the opportunity to travel to the Merit facilities in the U.S. and Europe to do field research. They were fast and furious trips, but they proved to be very valuable tools for me in assisting our travelers. Nothing can replace the "boot on the ground" experience for gathering information on airports and hotels near our facilities. When I'm not working, I spend a lot time with my daughter Chandler. If I have to pick our favorite things to do together, I would have to say hiking and shopping. We love to be in the mountains and in nature on a good trail. But we also love to shop just as hard as we hike.
https://www.merit.com/wp-content/uploads/2016/03/Linda3.jpg
1200
850
Merit Medical
https://www.merit.com/wp-content/uploads/2015/07/merit-header-logo-2x-300x46.png
Merit Medical
2016-03-03 06:00:02
2018-07-17 11:00:28
I Am Merit: Linda Sigvardt