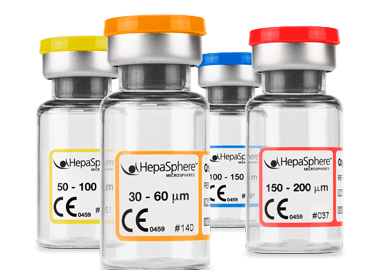 HepaSphere Microspheres are super absorbent polymer (SAP) microspheres made from vinyl acetate and methyl acrylate that combine to form a copolymer–sodium acrylate alcohol copolymer.
How do they work? HepaSphere Microspheres have the ability to load doxorubicin two ways: mechanically and through ionic interaction. Through mechanical interaction, HepaSphere Microspheres rapidly absorb aqueous solutions such as contrast media, saline, or reconstituted doxorubicin HCI* and expand up to four times the stated dry diameter when hydrated. A recent study found that SAP have the ability to load 50 and 75 mg doxorubicin with ease of handling and optimal efficiency through dry loading.1
* Doxorubicin HCl used with HepaSphere Microspheres should be reconstituted with saline; never use pure water.
High Drug Loadability
MECHANICAL INTERACTION – HepaSphere Microspheres act as a reservoir and mechanically absorb aqueous solutions.
IONIC INTERACTION – The doxorubicin is loaded and eluted by a reversible ionic exchange mechanism.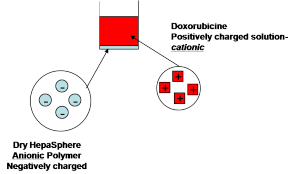 In the ionic interaction, the dry HepaSphere's anionic polymer is negatively charged and absorbs the doxorubicin, which is positively charged or cationic.
Increased Tumour Necrosis
In a study on an animal model, the doxorubicin loading and efficiency of polyvinyl alcohol sodium acrylate copolymer microspheres were tested. The results found that Merit's microspheres "can be efficiently loaded with doxorubicin" and that "histopathological tumour necrosis at 7 days was more prominent in the group treated with doxorubicin-loaded microspheres than in the bland embolisation group." Both in vitro and in vivo studies showed a high drug loadability and sustained drug release over time, high intratumoural doxorubicin concentrations at each time point, and on histopathology, increased tumour necrosis." 2
Efficient Loading
A study of doxorubicin eluting beads shows the difference in loading between HepaSphere Microspheres and another embolic brand. The study found that the competitor's bead loaded only on the outer 20 microns of the bead. HepaSphere loads doxorubicin throughout the sphere.
HepaSphere Microspheres load doxorubicin throughout the microsphere.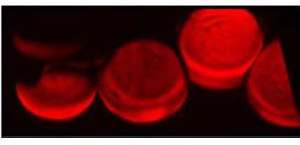 Competitor Bead – Confocal laser scanning microscopy images of dox-loaded beads (25 mgm/mL 500-700 micron bead). Image (below) shows progressive sections from the outside inwards at 10 micron intervals.3
For more information on HepaSphere Microspheres and loading of doxorubicin, explore the product's website page or see our step-by-step reference guides:
HepaSphere Microspheres Lyophilized Doxorubicin Mixing Chart
HepaSphere Microspheres Presolubilized Doxorubicin Mixing Chart
The Merit Medical Embolics Team is ALWAYS available to answer any questions about our Embolics Portfolio. Contact Us.
Antonio Rivera, BSRT, MSHS
Global Product Manager
——————————————–
HepaSphere Microspheres are not approved or available for sale in the United States. In the European Union, HepaSphere Microspheres are indicated for use in embolisation of blood vessels with or without delivery of doxorubicin HCl for therapeutic or preoperative purposes in the embolisation of hepatocellular carcinoma and the embolisation of metastases to the liver.
References
Liu DM, Kos S, Buczkowski A, Kee S, Munk PL, Klass D, Wasan E. Optimization of doxorubicin loading for superabsorbent polymer microspheres: in vitro analysis. Cardiovasc Intervent Radiol. 2012 Apr;35(2):391-8.
Lee KH, Liapi EA, et al. Doxorubicin-loaded QuadraSphere Microspheres: Plasma pharmacokinetics and intratumoral drug concentration in an animal model of liver cancer. Cariovasc Intervent Radiol. JUN 2010; 33(3):576-582.
Lewis LL, Gonzalez MV, Leppard SW, Brown JE, Stratford PW, Phillips GJ, Lloyd AW. Doxorubicin eluting beads-1: Effects of drug loading on bead characteristics and drug distribution. J Mater Sci. Sep 2007;18(9):1691-1699.