Accuracy matters. We help you get there.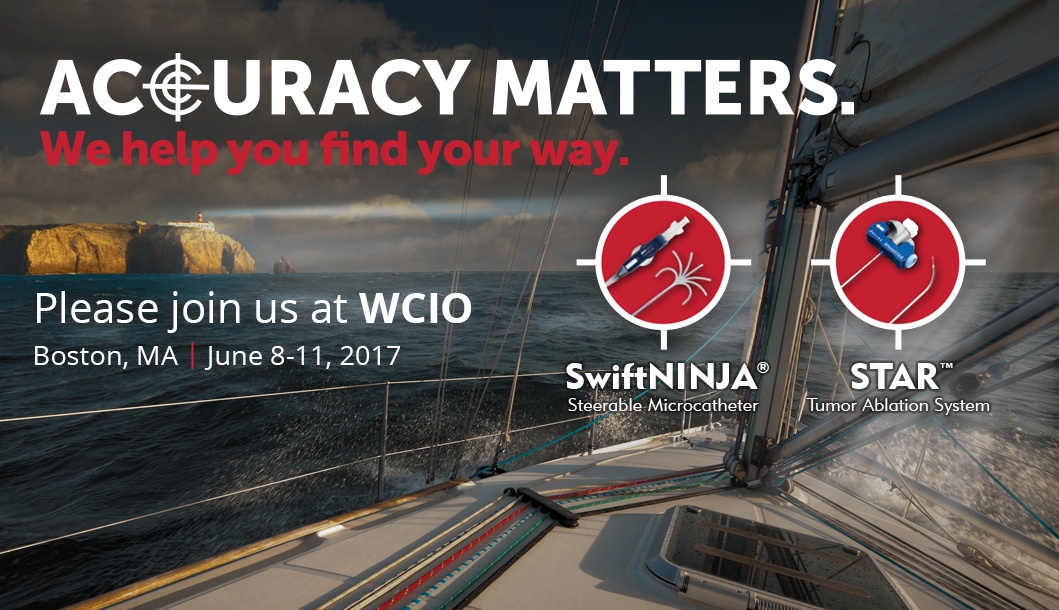 Since Merit Medical's founding, we've set out to build the world's most customer-focused healthcare company by understanding customers' needs and innovating a diverse range of products that improve the lives of people. Our Interventional Oncology & Spine (IOS) products illustrate just this, and we are excited to present several of them to you at the World Conference of Interventional Oncology (WCIO) 2017.
We continually hear from our physician customers that they need tools to help deliver therapies to difficult anatomy. So, our focus for this year's WCIO is to highlight two devices that aim to provide these navigation solutions, with the ability to reach challenging anatomy with accuracy.
SwiftNINJA® Steerable Microcatheter – The SwiftNINJA® steerable microcatheter is the most advanced and only 180° articulating microcatheter on the market today. It allows for positioning and re-direction within the vessel without the need for a micro guide wire. The proprietary straight-tip catheter articulates up to 180° in opposing directions to rapidly select the most challenging and complex vasculature during embolization procedures.
"The frequent insertion and removal of guidewires during superselective catherization can be minimalized by using a microcatheter with an articulating tip. Using a SwiftNINJA® can potentially simplify and shorten the procedure."
-Dr. Yasuaki Arai, Chief, Department of Diagnostic Radiology, National Cancer Center of Japan
STAR™ Tumor Ablation System – The STAR™ Tumor Ablation System is designed for the palliative treatment of painful metastatic spinal tumors. Included in this system is the SpineSTAR® Ablation Instrument, which allows for precise navigation through the pedicle and into the desired areas of the vertebra-containing tumor, allowing for fast, targeted tumor ablation.
"There are a number of features of the [SpineSTAR®] device that I really like. The articulating tip allows and facilitates reaching to areas in the vertebrae that are not possible with a straight fixed device."
-Dr. Aaron Frodsham, Interventional Radiology, University of Utah Huntsman Cancer Center
Come to booth #510 to learn more about navigation with the SwiftNINJA® and SpineSTAR®.
WCIO will also be conducting several workshops where you can view these products.
Friday, June 9 | 9:15-10:45am | MSK & Spine Interventions
Saturday, June 10 | 9:15-10:45am | Ablative Therapies
Saturday, June 10 | 1:30-3:00pm | Hepatic Intra-Arterial Therapies
Click here to learn more about Merit's WCIO attendance and workshops.
For a complete step-by-step guide to delivery, refer to Instructions for Use. Please consult product labels and inserts for any indications, contraindications, potential complications, warnings, precautions and directions for use.
https://www.merit.com/wp-content/uploads/2017/12/WCIO-Web-Banner.jpg
610
1059
Amy Swensen
https://www.merit.com/wp-content/uploads/2018/11/merit-header-logo.svg
Amy Swensen
2017-06-06 15:18:58
2020-03-26 11:35:14
Accuracy matters. We help you get there.