State by state, July is being recognized as Fibroid Awareness Month in the US. A common and often unspoken condition, fibroids affect as many as eight out of ten women by age 50.1 Heavy and prolonged menstruation, pelvic pain and pressure, and urinary dysfunction are just a handful of the symptoms associated with fibroids that can end up taking a toll on a woman's physical and emotional well-being. Although many women with fibroids may not experience symptoms, up to half seek treatment to find relief.2
Merit is committed to increasing fibroid awareness as well as promoting a safe and effective alternative to surgery: uterine fibroid embolization (UFE). We do this by taking a two-fold comprehensive advocacy approach that addresses both patient and physician needs. At Merit, we believe knowledge is power, and we support patient education through our Ask4UFE® program. Furthermore, our diverse portfolio offers interventional radiologists the products they need to provide optimal UFE care.
Patient Education
Ask4UFE is a program dedicated to women's health, particularly uterine fibroids and the benefits of UFE. We accomplish this by providing women with educational resources, such as a website (www.ask4UFE.com), brochures, infographics, UFE patient testimonials, and monthly articles and newsletters based on the latest fibroid research. With continuous growth and engagement, we amplify our outreach efforts through social media, welcoming hundreds of thousands of new users to our online community each year.
Embolotherapy Portfolio
In addition to patient outreach, we make it a priority to assist interventional radiologists by offering an embolotherapy suite of products that support the UFE procedure, from start to finish. Merit's Embosphere® Microspheres are the most clinically studied and clinically utilized spherical embolic—and the only embolic with over 20 years of clinical use, six-year implant data, and more than 200 journal publications that substantiate its safety and efficacy.3
We understand that fibroid infarction is the key to long-term UFE success, and the choice of embolic is crucial to sustaining infarction over the long-term. Complete infarction of all fibroids has been shown to result in a higher rate of symptom control and a lower rate of additional gynecologic intervention versus incomplete infarction of fibroid tissue.4 Embosphere Microspheres have a direct correlation between the level of arterial occlusion and the size of the microspheres used, allowing for consistent and reliable targeted occlusion.5,6 With Embosphere, studies show 92% of patients experienced 100% infarction of their entire uterine fibroid tumor burden, much higher than competing embolics.7,8,9,10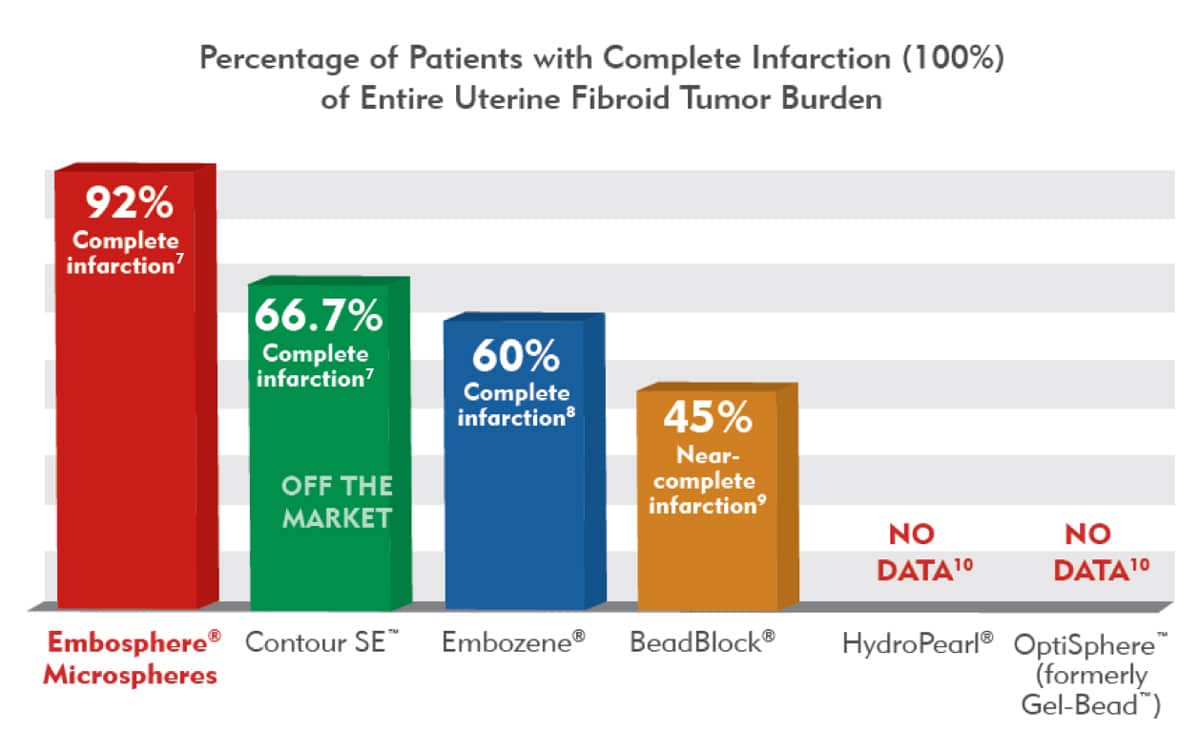 Embosphere Microspheres also have innate delivery advantages. A hydrophilic surface and spherical shape prevent aggregation in the catheter lumen and vasculature.11 Moreover, Embosphere's elastic properties allow compression of up to 33% to facilitate smooth microcatheter passage.11 But once through the microcatheter, the microspheres return to their original shape and stated diameter for predictable and targeted delivery.11
Given these clinical advantages, Embosphere Microspheres continue to be the "gold standard" embolic for UFE and the embolic of choice for optimal clinical results and long-term symptom control.12
This Fibroid Awareness Month, we invite you to explore the many resources we offer that enhance fibroid care. Share Ask4UFE.com with your patients and discover how Embosphere Microspheres can support your embolization procedures.
REFERENCES
1. U.S. Department of Health & Human Services, Office on Women's Health. (2018, Mar 16). Uterine Fibroids. Retrieved from https://www.womenshealth.gov/a-z-topics/uterine-fibroids
2. Soliman, A. M., Yang, H., Du, E. X., et al. (2015). The direct and indirect costs of uterine fibroid tumors: A systematic review of the literature between 2000 and 2013. Am J Obstet Gynecol, Aug;213(2):141-160.
3. Data on file.
4. Katsumori, T., Kasahara, T., Kin, Y., et al. (2008). Infarction of uterine fibroids after embolization: Relationship between postprocedural enhanced MRI findings and long-term clinical outcomes. Cardiovasc Intervent Radiol, Jan-Feb;31(1):66-72.
5. Pelage, J. P., Laurent, A., Wassef, M., et al. (2002). Uterine artery embolization in sheep: Comparison of acute effects with polyvinyl alcohol particles and calibrated microspheres. Radiology, Aug;224(2):436-445.
6. Verret, V., Ghegediban, S. H., Wassef, M., et al. (2011). The arterial distribution of Embozene and Embosphere Microspheres in sheep kidney and uterus embolization models. J Vasc Interv Radiol, Feb;22(2):220-228.
7. Siskin, G. P., Beck, A., Schuster, M., et al. (2008). Leiomyoma infarction after uterine artery embolization: A prospective randomized study comparing tris-acryl gelatin microspheres versus polyvinyl alcohol microspheres. J Vasc Interv Radiol, Jan;19(1):58-65.
8. Smeets A. J., Nijenhuis R. J., van Rooij W. J., et al. (2010). Embolization of uterine leiomyomas with polyzene F-coated hydrogel microspheres: initial experience. J Vasc Interv Radiol, Dec;21(12):1830-4.
9. Chrisman H. B., Dhand S., Rajeswaran S., et al. (2010). Prospective evaluation of the embolic agent Bead Block in the treatment of uterine leiomyomas with uterine artery embolization. J Vasc Interv Radiol, Apr;21(4):484-9.
10. Searched pubmed.gov and Google Scholar for the following keywords and combinations: "uterine artery embolization", "UFE", "HydroPearl", "GelBead", "OptiSphere", "uterine artery embolization", "UAE", "leiomyomas", "uterine fibroid infarction", "UFE".
11. Laurent, A., Beaujeux, R., Wassef, M., et al. (1996). Trisacryl gelatin microspheres for therapeutic embolization, I: Development and in vitro evaluation. AJNR Am J Neuroradiol, Mar;17(3):533-540.
12. Siskin, G. (2016). Mastering Embolic Choices in UFE: Current Evidence [PowerPoint slides]. Retrieved from http://www.gestweb.org/~ccmgest/symposium/images/Presentations/am1050_SiskinDr_Embolic_Thursday.pdf