Merit's Family of Drainage Products Supports Drainage Procedural Needs Every Step of the Way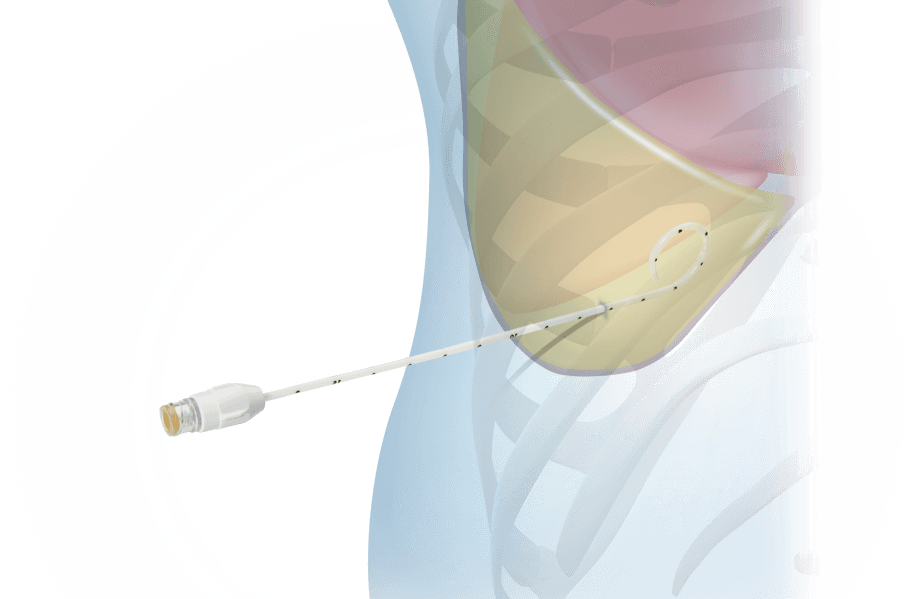 By Alicia Armeli
Proper drainage is necessary for the removal of fluid buildup, as well as diagnosis. From access to intervention, Merit Medical provides a diverse portfolio of drainage products to support procedural needs throughout each step. With products designed in multiple configurations for specific drainage needs and kits that can be tailored to meet clinical challenges head-on, Merit helps deliver patient-care that's efficient, while still being cost-effective.
At the start of every drainage procedure, avoiding delays and complications could be as simple as choosing the right introducer system. Merit's MAK-NV™ Introducer System and Valve Adapter—for mini access in non-vascular applications—were designed to help circumvent clinical challenges, such as introducer tip peel-back, inability to determine the exact location of the introducer tip, and difficulty visualizing the needle tip. In doing so, the MAK-NV Introducer System makes for easy visualization that leads to quick access into the drainage area.
Starting with a tapered dilator and introducer tip, the MAK-NV allows for smooth transitions and movement over the guide wire, which can help minimize buckling and the incidence of introducer peel back during insertion. Introducer systems without tapered tips may be more prone to catching on tissue, potentially leading to peel back. Once inserted, the MAK-NV Introducer System's distally placed radiopaque marker tip can help to determine its precise location more easily. For better needle visualization, the MAK-NV Needle has 1 cm echo-enhancement also placed at the distal end. Other needles without echo-enhancement technology may not be as easy to visualize when using ultrasound imaging.
Echo-enhancement can be beneficial, particularly during interventional centesis procedures. Pneumothorax is a common complication of thoracentesis. Yet, studies have shown that using real-time ultrasonography is a modifiable factor that reduces pneumothorax risk.1 Merit's One-Step™ Centesis Catheters have echo-enhanced needles that aid with visualization when using ultrasound. What's more, the Valved One-Step™ Centesis Catheter has a self-sealing valve to decrease the risk of pneumothorax, as well as prevent fluid leakage during centesis procedures. Both the One-Step and Valved One-Step Centesis Catheters employ a tapered tip for smooth transitions that can decrease resistance and patient discomfort. To maximize performance, each device is designed with large drainage holes and pigtail tips.
Merit drainage products reach beyond centesis procedures. For biliary and all-purpose drainage needs, the ReSolve® line of biliary, locking, and non-locking drainage catheters are designed to help lessen trauma to surrounding tissue, support more precise placement, and provide unimpeded drainage.
Biliary drainage procedures are associated with significant catheter-related complications that occur in up to 22% of procedures.2 A common complication of percutaneous biliary drainage is catheter obstruction—usually the result of bile stones, biliary sludge, blood clots, or intestinal debris.2  Bench top data show Merit drainage catheters to have larger drainage holes, faster flow rates, larger drainage area, and larger catheter inner diameters when compared to leading competitors.
These qualities can be observed in the ReSolve® Biliary Locking Drainage Catheters, which have multiple large holes laid out in two different drainage hole patterns to accommodate targeted drainage of various lesion locations, thus offering up to 4x more drainage area when compared to leading competitors. In combination with radiopaque marker bands, the ReSolve Biliary Locking Drainage Catheter also has depth markers to facilitate fast and accurate positioning. To increase patient comfort and avoid irritating surrounding tissue, the hydrophilic-coated tip of the catheter is located inside an atraumatic pigtail curve. The ReSolve Biliary Locking Drainage Catheter can either be locked to prevent movement, or unlocked to reposition the catheter. If needed, its polyurethane material allows for long-term indwelling time.
For all-purpose drainage needs such as nephrostomy procedures, Merit offers the ReSolve® Locking and Non-Locking line of drainage catheters. Featuring many of the same advantages as their biliary counterpart, ReSolve Locking and Non-Locking Catheters employ hydrophilic coating and tapered tips. The tip of the locking drainage catheter can be found inside a locking pigtail, while non-radiopaque depth markers on the catheter shaft act as a reference for correct positioning. Large drainage holes of locking catheters maximize percutaneous drainage.
To emphasize cost savings and time efficiency, Merit offers ReSolve+™ Biliary Locking Drainage Catheters and ReSolve+™ Locking Drainage Catheters. Both offer all the same clinical benefits of their parent ReSolve products but with fixation device options. Each come with either the Revolution™ Catheter Securement Device or the StayFIX® Fixation Device.
Fixation and securing devices can improve patient comfort by reducing irritation to tissue surrounding the catheter, as well as avoiding the potential for catheter dislodgment. The Revolution Catheter Securement Device is a needleless and economical product designed with patient and clinician safety in mind. Easily positioned, the Revolution Catheter Securement Device holds a catheter in place, leaving the insertion site visible for cleaning and monitoring.
Its sister product—the suture-free StayFIX Fixation Device—is made only for percutaneous non-vascular catheters. This cost-savings option is designed to stop catheter migration, movement, and accidental removal. Made of soft water-resistant material, StayFIX remains secure for up to 7 days, allowing for patients to shower without removing the device. Additionally, its hydrocolloid material can reduce skin irritation by absorbing any fluid leaking from the insertion site.
Working alongside Merit's catheters are several more accessories that together aim to improve the overall patient experience and increase procedural efficiency.
This includes innovative devices created for common difficulties clinicians face. For example, abscess drainage and thrombus aspiration are often associated with clinician hand fatigue. To avoid this challenge and associated procedural delays, Merit has developed the VacLok® Vacuum Pressure Syringe. The VacLok creates a sustained negative vacuum by pulling back on the plunger and locking the device in place. With a clear polycarbonate barrel available in several sizes, fluid can be continuously collected and its volume monitored.
For procedures that don't use syringes but collect fluid in drainage bags, Merit supplies Drainage Depot™ Drainage Bags along with adjustable length drainage tubing and a VELCRO® brand leg strap that can meet a variety of patient sizes. With easy-to read volume markings, a twist valve for tidy disposal, and an internal anti-reflux valve—Depot Drainage Bags assist in improving the drainage process.
Taking efficiency to another level, the Merit Marquis® Series Stopcock accessories provide an added element of control to catheter procedures. With a larger easy-to-hold handle, the Marquis is simple to use with an effortless grip and turn motion. Described as "a cut above the rest," the Marquis Series Stopcock is available in different pressure ratings, luer options, and has a patented airless rotator that prevents air bubbles from forming.
To increase convenience of drainage procedures, Merit offers standalone drainage options, kit configurations, or procedural trays. The MAK-NV kit comes with a variety of needles and guide wires, along with a large diameter introducer. Examples of ready-to-use trays include the ReSolve Locking Drainage Catheter Tray, the Safety Paracentesis Procedure Tray, and the Thoracentesis & Paracentesis Set (TAPS). Each kit includes all the products needed to perform a corresponding drainage procedure—minimizing procedural delays, while still ensuring a safe working environment.
Each member of Merit's drainage family works together to provide an integrative approach to drainage procedures. By understanding and supporting clinician needs, Merit can help you deliver patient-centered, efficient, and cost-effective care. Welcome to the family.
Please consult product labels and inserts for any indications, contraindications, potential complications, warnings, precautions and directions for use.
REFERENCES
Gordon, C., Feller-Kopman, D., Balk, E., & Smetana, G. (2010). Pneumothorax following thoracentesis: a systematic review and meta-analysis. Archives of Internal Medicine, 170(4): 332-339. doi: 10.1001/archinternmed.2009.548. https://www.ncbi.nlm.nih.gov/pubmed/20177035
Huang, S., Engstrom, B., Lungren, M., & Kim, C. (2015). Management of dysfunctional catheters and tubes inserted by interventional radiology. Seminars in Interventional Radiology, 32(2): 67-77. doi: 10.1055/s-0035-1549371. https://www.ncbi.nlm.nih.gov/pmc/articles/PMC4447882/
Alicia Armeli is a Freelance Writer and Editor who specializes in medical technology, health, and wellness.
https://www.merit.com/wp-content/uploads/2016/04/banner-OneStep.png
599
918
Amy Swensen
https://www.merit.com/wp-content/uploads/2019/07/merit-medical-header-logo.svg
Amy Swensen
2016-12-08 06:00:52
2018-02-23 11:57:02
Merit's Family of Drainage Products Supports Drainage Procedural Needs Every Step of the Way